Mazda announces specs for new SkyActiv-X engine
Mazda has revealed more details on its supercharged compression ignition SkyActiv-X engine, including performance and economy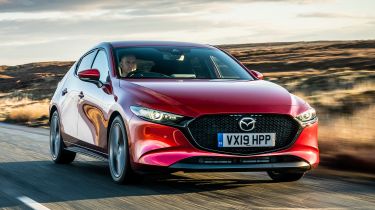 Mazda has announced its new 2.0-litre SkyActiv-X engine will return up to 52.3mpg and emits 96g/km of CO2. The Japanese brand had claimed the engine would return diesel levels of economy from a petrol engine.
The four-cylinder engine is the world's first commercially-available petrol engine with compression ignition. Under normal running conditions, the fuel-air mixture is ignited through intense pressure, being compressed by the piston as it would in a diesel engine.
However, the engine uses its spark plugs to ignite the mixture when under heavy load, using Mazda's own Spark Controlled Compression Ignition system to seamlessly transition between compression and spark ignition.
The Japanese brand's new SkyActiv-X engine produces 178bhp and 224Nm of torque. In the new Mazda 3 hatchback (fitted with the standard 16-inch alloy wheels), economy and emissions figures are a claimed 52.3mpg and 96g/km of CO2. With larger 18-inch alloys fitted, these figures fall to 50.4mpg and 102g/km of CO2 respectively.
To achieve such figures, Mazda has also fitted the SkyActiv-X unit with a 24-volt mild-hybrid system, which recovers electrical energy from the drivetrain under deceleration and uses it to power an electric motor which assists the engine.
The engine will be available in both the Mazda 3 hatchback and saloon, with buyers given the choice of either a six-speed manual or a six-speed automatic transmission.
Now read our review of the new Mazda 3 hatchback. Let us know your thoughts in the comments section below…