Mazda RX-8 set to return in 2017
Mazda confirms Wankel-powered flagship coupe for 2017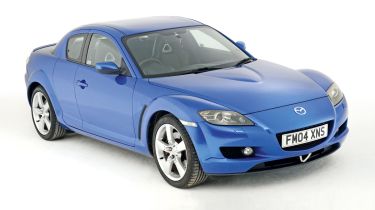 Mazda is developing a new rotary-engined sports car to succeed the RX-7 and RX-8, Auto Express has learned. Bigger and more powerful than the Mazda MX-5, the car is aimed at a 2017 launch, to coincide with the 50th anniversary of the launch of the Cosmo Sport, the first Mazda powered by a Wankel rotary engine.
Mazda Engineers are working to address the Wankel engine's inherent flaws – high fuel and oil consumption and meagre torque – without resorting to turbocharging.
The answers are being sought through Mazda's 'SkyActiv' engineering philosophy, which focuses on shedding weight and using high engine compression ratios to boost power and efficiency from revvy, naturally aspirated engines. It's a technique we've already seen used to great effect in the current Mazda 3 and 6.
It's understood that Mazda is targeting a 300bhp output for the reborn rotary engine, up from 238bhp in the most potent RX-8. Mazda could opt for a compact, low-slung RX-7-style coupe bodystyle instead of the Mazda RX-8's four-door configuration, in an effort to slash weight.
The RX-8, discontinued in 2010, weighed in at around 1,310kg – 120kg more than a modern Toyota GT 86. Mazda's new flagship will stick to rear-wheel drive.
We hear that an extended version of the new MX-5's rear-drive platform is being used to develop the car, beefed up to cope with the lofty power output. Familiar six-speed manual and five-speed auto gearboxes will be similarly honed for the new high-performance application.
Mazda has a rich history of rotary-powered cars, starting with the Cosmo Sport of the late 60s, which developed up to 129bhp and could hit 120mph.
More famously, Mazda had the RX-7 that was sold in the UK through the 90s and the RX-8 that went on to replace it. Mazda also won the Le Mans 24 Hours race in 1991 with the rotary-powered 787B – the only time a Japanese manufacturer has won the event.