Mazda CX-30 gets best-ever Euro NCAP crash-test rating
The new Mazda CX-30 scores 99 per cent in its adult occupancy NCAP assessment; testers say "there are few safer places to be"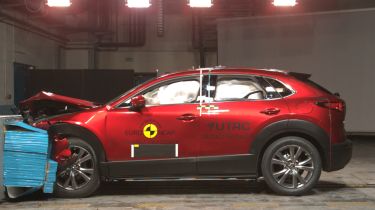 The Mazda CX-30 has been awarded the highest-ever mark in Euro NCAP's main crash-test, scoring 99 per cent in its adult occupancy assessment.
The result means the CX-30 beats previous high scorers including the Alfa Romeo Giulia, Mazda 3, Volvo XC60 and Volvo V40, all of which were awarded 98 per cent.
The CX-30 - which slots between the larger CX-5 and smaller CX-3 in Mazda's SUV range - scored maximum points in the full-width barrier, side impact and side pole tests, which contribute towards the adult occupancy results. It was awarded an 86 per cent child occupancy rating, and scored the full five stars overall.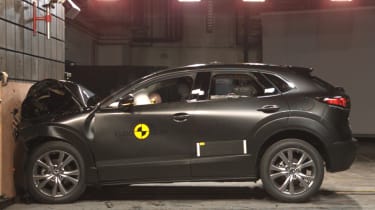 Matthew Avery, director of insurance research, at Thatcham Research, which carries out crash testing in conjunction with Euro NCAP, called the result "truly impressive".
"The Mazda CX-30 is a mainstream vehicle, available at an affordable price point performing at the highest level in impact testing. In the event of an accident, there are few safer places to be than the front seats of the Mazda CX-30.
"The structure of the vehicle and the performance of its restraints are key. Especially in the side pole test which encourages carmakers to fit side-curtain airbags to protect occupants' heads in a collision."
Other vehicles assessed in NCAP's latest round of results include the Vauxhall Corsa, which gained four stars, missing out on a fifth due to the protection it offers against whiplash injuries - though Avery clarified that the Corsa posted a "solid" result.
The Mercedes GLB, meanwhile, scored the full five stars overall, adding to a track track record that has seen every Mercedes tested since 2014 gain five stars.
Click here to read our first review of the new Mazda CX-30...