Mazda MX-5 facing reduced engine volume in 2020
The 2.0-litre engine version of the Mazda MX-5 will be significantly limited in 2020 to meet CO2 targets and customer trends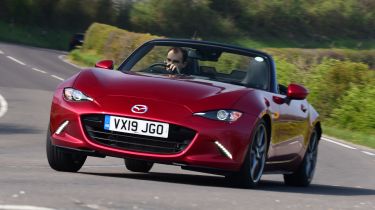 UK supplies of the 2.0-litre version of the Mazda MX-5 are going to be significantly limited in 2020 because of CO2 fleet average targets and currency fluctuations, the company has admitted.
A report in the Financial Times claimed that some versions of the popular sports car will be axed entirely, and that dealers have been told to expect a 20 per cent reduction in sales in 2020. Mazda UK has now confirmed that the 1.5-litre version of the MX-5 will indeed be its focus.
A spokesman said, "We take a number of factors into consideration - not just the CO2 targets but also customer trends, pricing and currency exchange rates. But it is fair to say, yes, that there will be reduced supply of the 2.0-litre MX-5 in 2020."
Auto Express understands that Mazda's UK dealers have indeed been told by HQ to expect a significant drop in overall sales volume next year - a fall of around 13 per cent. But the extra focus on the 1.5 MX-5 is indeed likely to have been caused by concerns over the potential penalties for not meeting fleet CO2 targets. The smaller-engined variant emits around 138g/km of CO2, while the 2.0 model's figures are all north of 155g/km.
The move is likely to be just one of dozens of adjustments to car engine line-ups over the next 12 months. Some manufacturers have expressed concerns that, in an attempt to avoid the EU's CO2 penalties, they will be trying to push buyers into vehicles that are not fully in tune with customer demand - and at potentially higher prices.
Are you worried about the impact EU's CO2 penalties will have on manufacturers? Let us know your thoughts in the comments below...