Mazda MX-5 Mk2 (1998-2005) review
The second generation MX-5 NB protected Mazda's winning formula with improvements in key areas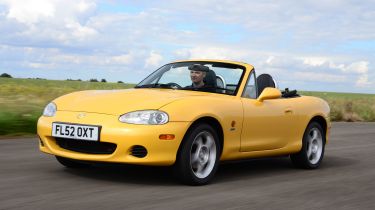 After dominating the small roadster class for nearly a decade, Mazda responded to the arrival of a host of new drop-top challengers by launching a new MX-5 in 1998. Essentially a heavily reworked version of the original, the new NB model featured revised looks, an upmarket interior and a more powerful engine. Yet the company was careful not to mess with a winning formula, so the Japanese two-seater was fun to drive, affordable to run and solidly built.
There's no denying the Mk2 lost some of the original's charm and style, but as a low cost roadster for daily use it's a much more sensible proposition. Not only is just as cheap to buy, there's more choice, most examples are official UK imports and you get more kit.
Engines, performance and drive
Improvements in safety and refinement mean the Mk2 MX-5 weighs around 100kg more than its predecessor. As result, the entry-level 108bhp 1.6-litre felt a little sluggish, but the more powerful 140bhp 1.8-litre feel just as eager as the old car. Our test car was fitted with an even more powerful 146bhp version of the this unit, which on later cars was mated to a six-speed manual gearbox for even livelier acceleration.
Yet no matter what engine you choose, you get the same fizzing engine note and rifle bolt gearshift action as the first generation machine. You also need to work these four-cylinder engines hard to give their best, but they're always eager and backed by a near instant throttle response. Yet it's still the delicately balanced handling that steals the show, encouraging you to seek out a series of corners whenever possible. Standard fit power-steering takes the sweat out low speed manoeuvres, while wider tyres deliver more grip, but the MX-5's engaging and entertaining character remains undimmed.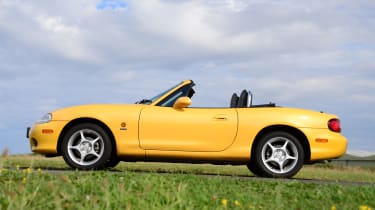 Like the original model and the current car there's a fair amount of body roll, but once the Mazda's settled it feels composed and planted. Yet lift off the throttle or tweak the steering and the two-seater responds instantly, allowing you to subtly alter the MX-5's attitude mid-corner. There's not really enough power to break traction in the dry, but in the wet our Torsen limited slip differential equipped Mazda can be coaxed into surprisingly controllable drifts.
As you'd expect, when you're not having fun the Mazda is more refined than the old car. There's the same remarkably supple ride, but engine noise is more subdued and the better insulated fabric roof does a good job reducing racket from the wind. There's also a neat wind deflector that helps keep the cabin calmer when the hood is lowered.
MPG, CO2 and Running Costs
When the MX-5 NB hit showrooms in 1998 it no longer had the small sports car class to itself. Rivals from MG, Fiat, Toyota, BMW and Lotus had joined the fray, forcing Mazda to make the MX-5 more financially attractive than ever. Affordable prices, low running costs and strong residuals combined to ensure the newcomer continued success story of the original.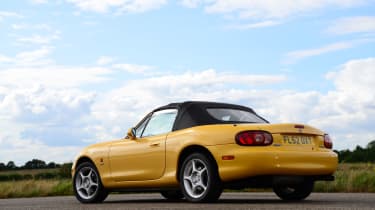 Today the refined and robust Mk2 represents one of the most affordable and practical routes into MX-5 ownership. Scruffy but usable NBs can be picked for around a grand, while double that will bag you a very well cared for example. Road tax is £230 for early cars, while post 2001 models are likely to attract a slightly higher levy of £285. You can expect to get around 35mpg at the pumps, plus the proliferation of independent specialists means servicing costs will be low.
Interior, design and technology
Legislation changes in the late Nineties meant that pop-up headlamps were banned in an effort to boost pedestrian safety. As a result, the Mk2 MX-5 features traditional faired-in light units and a softer nose treatment. Elsewhere, the addition of wider wheelarches and sculpted flanks give the newer car a more bulbous look than the taut and compact original. Yet it's still unmistakably an MX-5, while the bright yellow finish of our Arizona special edition adds an extra dose of eye-catching kerb appeal.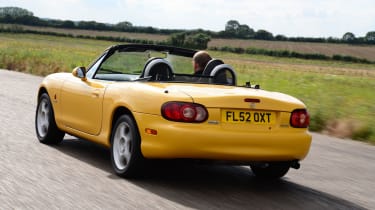 Inside, there where improvements in the materials and design resulted in a more upmarket and modern feel. Yet there were still plenty of recognisable design cues, such as the circular air vents high transmission tunnel that features a tiny gearlever. Our 2002 test car also featured much more kit than its predecessor, with electric windows, power steering, leather trim, heated seats and air-con all featuring. Other highlights include the distinctive white-faced dials and gorgeous Nardi steering wheel.
Distinctive limited edition models where always part of the MX-5's appeal, but the Mk2 was available in more weird and wonderful guises than most. Take a look in contemporary price lists and over the years you'll spot plenty of quirky additions to the range, including the 10th Anniversary, Icon, Jasper Conran, Isola, Phoenix, Montana and even version badged the Euphonic.
Practicality, comfort and boot space
It's only a little bigger than its predecessor, but the Mk2 feels slightly roomier inside with a fraction more leg and shoulder room. There's also a larger 144-litre boot, which is only 6-litres down on the current car. Extra storage is provided by a decent-sized glovebox, some small door pockets and a lockable cubby behind the handbrake.
As with the original, the fabric hood is manually operated and can be raised and lowered in seconds without having to leave your seat. Yet because of its newer design, the second generation car is a more practical proposition for daily driving than its predecessor. Better refinement makes it more tolerable on the motorway, while the wider availability of features such as electric windows, central locking, heated seats and air-con make the daily commute more bearable.detail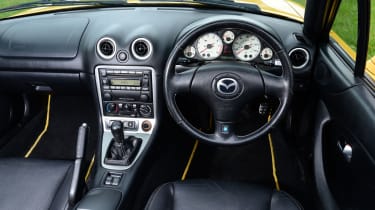 Look underneath the reworked body and you'll discover many of the NB MX-5's mechanicals are carried over from the NA. That means the same bulletproof engines and double wishbone suspension set-up, plus the same almost faultless durability. The Mk2 was a regular fixture in our Driver Power satisfaction survey until 2009, regularly picking up top 10 finishes for reliability and build quality.
As with its predecessor, both the 1.6-litre and 1.8-litre engines are good for more than 200,000 miles if properly maintained, while the car's relatively low kerbweight means braking and suspension components aren't put under undue stress.
Safety was taken much more seriously by the time the second generation car debuted in 1998, meaning that driver and passenger airbags were fitted as standard along with a high-level brake light. However, you'd have to fork out for the range-topping 1.8iS if you wanted anti-lock brakes - this kit was an option on cheaper models. Even so, EuroNCAP awarded the MX-5 a four star rating after testing it in 2002.
Next Steps
Which Is Best
Cheapest
Name

1.5 [132] SE-L 2dr

Gearbox type

Manual

Price

£24,480
Most Economical
Name

1.5 [132] SE-L 2dr

Gearbox type

Manual

Price

£24,480
Fastest
Name

1.5 [132] SE-L 2dr

Gearbox type

Manual

Price

£24,480