Video: Mazda MX-5 Owners Club 20th Anniversary Rally
We take a look at some of the most interesting Mazda MX-5s at a special owners club meet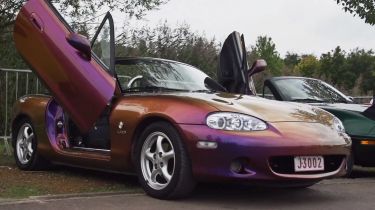 We went along to the Mazda MX-5 Owners Club 20th Anniversary Rally at the Heritage Motor Centre in Gaydon, Warwickshire to meet some of the little roadster's biggest fans.
The car is celebrating its 25th anniversary this year, and over 1,700 Mazda MX-5 cars we on display at the event. The variety was huge - from completely standard and untouched Mark 1 models all the way over to highly modified examples sitting on air suspension and with crazy paint jobs.
This video takes look at the best cars at the event, but if you're after a lot more Mazda MX-5 content, head over to our 25th anniversary special page.
We've got a video where Mat Watson's MX-5 takes on a brand new Porsche Boxster (after a few modifications), a road test of all three generations, a gallery of all the best special edition models, everything you need to know about the 2015 model and much more.
More Mazda MX-5 25th anniversary stories
So it's happy birthday to the popular little roadster - are you a fan? Let us know in the comments below, or on YouTube, Facebook or Twitter.