Mega classic Mazda MX-5 road test: Mk1 vs Mk2 vs Mk3
The latest Mazda MX-5 is a cracker of a sports car, but how do three generations of its predecessors stack up today?
In some ways the Mazda MX-5 for sale today is a very different beast to the little Mazda sports car that first burst onto the scene nearly 30 years ago. Now into its fourth generation, the MX5 offers a level of technology, refinement and performance its predecessors could only dream about. You can read our latest MX-5 review here, but why not take a moment to reminisce with us about some of the most popular enthusiast driving machines of the last three decades?
Back in 2014, Mazda released a special birthday edition of the third-generation MX-5, which not surprisingly they called the 25th Anniversary model. Just 1,000 examples were made to sell at just under £23k, which was in itself a bit of a birthday present to customers, as that was less than the Sport Tech version on which it was based.
• Mazda MX-5: 25 years in pictures
We brought the 25th Anniversary model face to face with examples of the first- and second-generation MX-5s, to see how all three stack up today. So whether you're actually in the market for a used MX-5, or just want to relive your misspent youth, come along with us for a trip down MX-5 memory lane.
As well as celebrating the Mazda's quarter century and more of driving fun, we've dipped into the MX-5's DNA to see how the little sports car has become an global icon over its lifetime – and provides such a clear line of ancestry to the fab fourth generation roadster we still enjoy today!
Click the links above to read individual reviews, and scroll down to see which generation came out on top...
Head-to-head
Lifting the lid
Experiencing wind in the hair thrills is what MX-5 ownership is all about - and lowering the roof on all three models couldn't be simpler. In the current car you unlatch a single catch on the windscreen header rail before prodding a button on the dash and letting the electric motors do the rest. On the earlier cars you have to lower the hood manually, but this process takes a matter of seconds and can be done from the driver's seat. Of course, the MKI and MkII can't match the all-weather security of the latest car's folding hardtop.
Simple style
All three cars share many of the same design cues, but it's the simple and compact original that boasts the most kerb appeal to our eyes. The pop-up headlamps aren't as pedestrian friendly or aerodynamic as the later cars' faired in units, but they look great and add real character. The delicate metal door handles are another fantastic touch.
Buying used
With the covers being pulled off the all-new fourth generation model, there's never been a better time to buy a used MX-5. A budget of around £1,500 will buy you a usable MKI, while another £500 will secure you a tidy MKII. Prices for the current car are a little higher, but £4,000 should net you a cared for 2005 model.
Verdict
Mazda MX-5 Mk1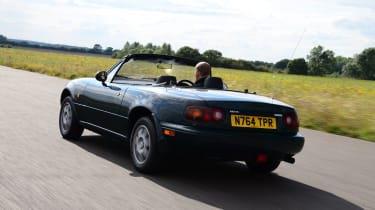 A quarter of a century after it first ripped-up the roadster rulebook, the original MX-5's appeal remains undimmed. It looks great, is fantastic to drive and is great value for money. Its approachable rear-wheel drive handling still sets the standard for involvement, plus its eager engine and wrist-flick gearchange make the most of the available performance. Even better, top notch reliability means this is the ultimate hassle-free modern classic.
Mazda MX-5 Mk2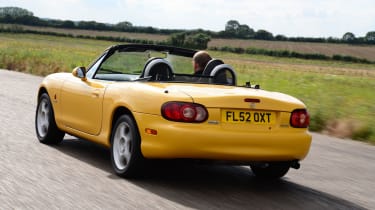 While it lacks the cute charm of original, the second generation MX-5 lacked none of its predecessor's capacity for fun. The eager engine and thrilling rear-drive handling remained unchanged, and when the roof is down and the sun is shining few cars can generate a bigger grin on their driver's face. However, it was also more practical, a little more refined and featured a longer list of standard kit, making it a more sensible machine for daily use.
Mazda MX-5 Mk3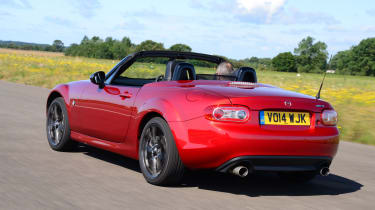 The current car has been around for nearly a decade now, but while the cracks are starting to show it's still huge fun to drive and decent value - especially in 25th Anniversary guise. In folding hard top RC guise you also get the best of both worlds, with coupe-like refinement when the roof is raised and wind-in-the-hair thrills when to roof is lowered. On this evidence the all-new car is going to have to be very special indeed.
More Mazda MX-5 25th anniversary stories