Mazda MX-5 Mk1 (1991 to 1998) review
The original Mazda MX-5 is getting long in the tooth now but it still delivers on those classic roadster thrills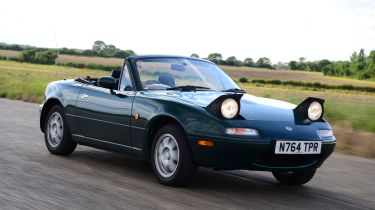 This is where the Mazda MX-5 legend began. Launched in 1989, the tiny two-seater roadster was designed to deliver simple driving thrills to buyers on a modest budget. Fast forward a quarter of a century and the Japanese machine has become the best-selling small roadster of all time, racking up more than a million sales. Yet it was the brilliant original that laid the foundations for this unprecedented success story.
Styling
Even after 25 years, the first generation MX-5 still has enough kerb appeal to turn heads. The car in our pictures is a Eunos Roadster imported from Japan, but apart from a few badges it's visually and mechanically identical the Mazda. Heavily inspired by the Sixties Lotus Elan, the MX-5's clean, uncluttered and retro-themed lines have aged remarkably well. In fact, it's only the car's dinky dimensions that betray it's advancing years, as it's dwarfed by the current car.
Look closely at the MX-5 and you'll spot plenty of neat details that give the car plenty of character. Highlights include the dainty looking polished metal door handles. pop-up headlamps and replica Minilite alloy wheels - although our 1996 version featured a more modern rim design. It also features the now familiar bonnet bulge and remarkably upright screen.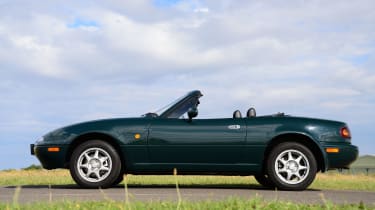 The nods to the past continue inside, where you'll discover a simple dashboard layout that features neat eyeball air vents, clearly marked out dials and thin-rimmed three-spoke steering wheel. And while there's very little kit - a radio cassette player and cigarette lighter are the only luxuries - what switchgear there is operates with robust precision. Unlike the Sixties British sportscars that inspired it, the Mazda feels engineered to last.
Practicality
You don't expect a two-seater roadster to be practical, but an early MX-5 is better than most. For starters, the 125-lite boot is only 25-litres down on the current car's, while the interior is surprisingly roomy despite the Mazda's compact external dimensions. There's also a decent-sized glovebox and pair of handy elasticated pouches that double as door bins.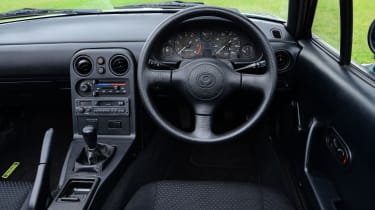 There's no power assistance for the folding fabric roof, but operating the manual mechanism is simplicity itself. All you need do is release a couple of catches at the top of the windscreen before flicking the hood back in one simple movement. Even better, the unit is light enough that it's possible to raise it again with one hand while remaining sat in the driver's seat.
Driving
The MX-5 was designed from the outset to be fun to drive, so it's no surprise to find the original focuses on driver thrills. With its low slung driving position, thin-rimmed three spoke wheel, high transmission tunnel and stubby gearlever, the Mazda signals it's sporty intentions before you've even twisted the key in the ignition.
Early cars were fitted with a 114bhp 1.6-litre four-cylinder engine that lacked firepower, but was eager to rev and delivered an evocative, rasping exhaust note. Our later example has the larger 1.8-litre unit with an extra 16bhp. It doesn't sound like a big increase on paper, but with only 990kg to haul along, a sharp throttle response and characterful soundtrack, the MX-5 feels much livelier than its claimed 0-62mph time of 8.1 seconds suggests. Even better, the five-speed manual gearbox's snappy, short-throw shift encourages you to make the most of the available acceleration. But it's car's sublime handling that really makes it stand out.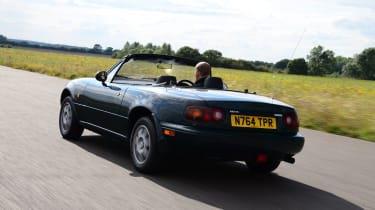 The combination of modest 185 section tyres, a traditional rear-wheel drive layout and near perfect weight distribution make the MX-5 a joy to fling down a twisting back road. And while the unassisted steering is heavy at low speed, out om the open road it's light, precise and brimming with feedback, while the Mazda's line through a bend can be trimmed using a combination of steering and throttle. It's a hugely rewarding car to drive, yet its uncanny balance and relatively low grip levels make it very forgiving too.
Later cars like ours were also available with a limited slip differential and a stiffened bodyshell, both of which further enhanced the MX-5's precise handling. You could also add power steering, which made light work of parking but didn't sacrifice much in the way feel.
What's remarkable is that this sharp handling doesn't come at the expense of comfort, but because the MX-5 soaks up bumps that would send a shudder through most modern roadsters. It's only on long journeys that the Mazda shows its age. Short gearing means the engine buzzes away on the motorway, plus there's plenty of buffeting with hood down and a deafening roar from the wind with thin fabric covering in place.
Reliability
When the MX-5 made its UK debut in 1989, roadster fans still had strong memories of the fragile British sportscars of the Sixties and Seventies. Yet while the cars that inspired the Mazda spent as much time stranded by the roadside as they did on the move, the Japanese machine's robust build and impeccable reliability meant owners were able spend their time behind the wheel rather than under the bonnet.
In fact, you only have to look around and see the number of MKI MX-5s that are still on the road to appreciate the Mazda's durability. On the whole the four-cylinder powerplants are almost indestructible, while rust should only be a problem on cars that have been crashed and badly repaired.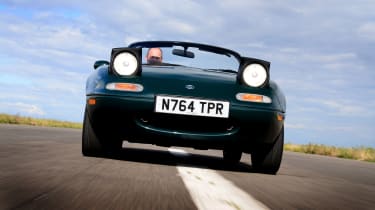 As you'd expect of such an old car, safety wasn't as much of a priority when the MX-5 was being developed. Early cars have virtually none of the protective aids we take for granted these days, but cars build after 1994 got a stiffer bodyshell and some side impact protection, while in 1995 the range-topping 1.8iS was kitted out with anti-lock brakes and driver's airbag.
Running costs
From the outset the Mazda was intended to be affordable to buy and run. Even so, when it hit UK showrooms in 1990, the MX-5 carried a price tag of £14,249, which made it a few hundred pounds more expensive than the faster and more practical MKII VW Golf GTI 16V. Yet thanks to its robust and frugal 1.6-litre engine and top notch reliability, the two-seater costs no more to run than a humble family hatchback.
Happily the first generation model is even more cost effective today. Tidy a well-cared examples of both the 1.6 and 1.8-litre can be picked up for around £1,500, while a thriving parts and servicing industry means maintenance won't cost the earth. An annual tax disc will set you back £230, plus many specialist insurers will cover the Mazda under a cheaper, agreed mileage and value 'classic' car policy. And don't be put off by grey import Eunos model like the one in our pictures - many are well maintained and come with more standard kit than UK cars.
More Mazda MX-5 25th anniversary stories