What does the future hold for Lando Norris?
Earlier this year we caught up with McLaren's latest F1 driver, Lando Norris, to talk about his success and future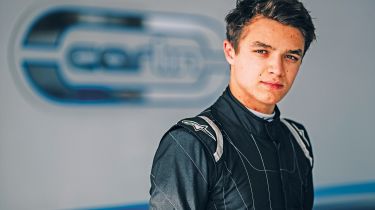 Spotting a future champion is as tough in motor racing as it is in any other sport. For every Damon Hill, Jenson Button or Lewis Hamilton, there are countless prospects who don't make it to the Holy Grail of Formula One. 'Sure things' don't really exist, but 18-year-old Lando Norris comes pretty close. The young British driver has just been named as the occupant of McLaren's second seat for the 2019 season, meaning he'll be lining up with teamate Carlos Sainz on the F1 grid.
Over the past seasons, the Glastonbury youngster has upended the conventional wisdom that drivers need two years in a category of racing to find their feet and mount a title challenge. Instead, he has dominated categories in his rookie year, becoming the 2015 MSA Formula champion, 2016 Formula Renault Eurocup champion and 2017 Formula 3 European Series champion.
• 'Ricciardo's shock Renault F1 deal is a roll of the dice'
And that stellar record didn't go unnoticed in the F1 paddock: for 2018, Norris dovetailed an attack on the Formula 2 championship with British team Carlin alongside test and reserve driver duties for McLaren now he's been installed as McLaren's number 2 driver, the biggest challenge lies ahead. So what is it about Norris that allows him to always hit the ground running in a new car and a new environment? We spoke to the man himself earlier this year to get his view on exactly that.
"I think it's just preparation, really," he says. "So far in my career, I've always been able to test in the following year's car, so it's just been a case of maximising whatever days I have. "I'm able to adapt to a new car easily and quickly, so if I have five days of testing, it takes me maybe the first morning to get used to the car. "After that I can be trying to maximise things and learn as much as I can.
"Also, I've always raced with teams I know are capable of winning titles, so the only reason I wouldn't do it is if I didn't do a good enough job." This has continued to serve him well in the 2018 F2 season, with Norris competiing strongly and securing multiple podium finishes.
"McLaren wants me to learn as much as possible and go about things the way an F1 driver would, give the kind of feedback an F1 engineer would look for. So if there is the opportunity to step into the F1 car, I'll already be where I need to be." Now that he has been confirmed as a driver for the 2019 F1 season, only time will tell if he is ready.
"I just need the consistency that someone like Lewis or Fernando has had for years. know that's where I need to improve and sometimes that just comes with time." It seems certain that the consistency he seeks will come, but while that will represent the end of one journey from karting to the pinnacle of motorsport, it will also be the start of the struggle to forge a long and successful career at racing's top level.
Norris makes no bones about how he sees things playing out from there. "I want to be remembered for being a very good driver, for being a bit different from the rest and [winning] a championship or two," he declares. "I want to be someone like Senna, Schumacher or Hamilton – drivers who've stood out from the rest."
Who is your all-time favourite F1 driver? Let us know in the comments below...