HWA to recreate Mercedes 190E 2.5-16 Evo II for the ultimate hot Merc nostalgia hit
A restomod version of the iconic Mercedes will arrive in 2025 and cost over £620,000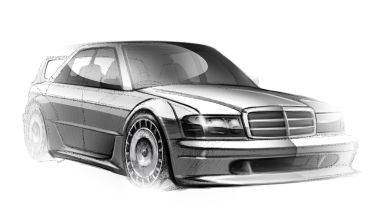 The Mercedes 190E 2.5-16 Evo II is a legend of the 1990s touring car scene and now engineering and motorsport company HWA is looking to bring it into the 21st century. 
HWA, suitably based in Affalterbach (the same city as Mercedes-AMG), says the upcoming 'HWA Evo' is a "furious reinterpretation of the legendary Mercedes-Benz 190E 2.5-16 Evo II - equipped with state-of-the-art technologies."
Founded in 1998, HWA's DTM team has won the Drivers' Championship eight times and taken 11 manufacturer titles by using Mercedes cars. During the late nineties the firm helped make the road-legal homologated version of the Mercedes CLK-GTR, called the "Strassenversion", to make it eligible for Le Mans. The HWA Evo is a continuation of the firm's close partnership with Mercedes.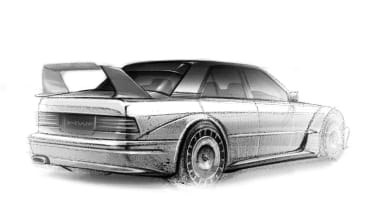 Hans Werner Aufrecht, founder of HWA said of the project: "The Evo II was a design icon of the early 1990s and set benchmarks in terms of style. Our idea was to reinterpret this design."
The HWA Evo has been previewed by a set of design sketches and it looks like it'll mostly stay true to the original 190E's looks. The new car will be based on a W201 series - which was penned by legendary designer Bruno Sacco.
The 190E Evo II's flared wheel arches are even bigger - housing a set of turbo-fan style wheels. To the front, we can see a bumper that looks similar to the old car's but with a larger lip spoiler. The massive rear wing takes on the same design as the one on the original car but the rear light looks to be smoothed over, instead of the corrugated shape of the old light clusters. 
HWA says the car's powertrain, performance, chassis, brakes, aerodynamics and safety will all be "state-of-the-art", although technical specifications are yet to be finalised. The HWA car will also be much rarer than the original Evo II's 500-unit production run with only 100 examples planned. Pricing will be, frankly, astronomical - 714,000 euros (equivalent to around £624,000 plus VAT). 
How much is your car worth? Find out with our free valuation tool...