Mercedes E-Class range to expand with Audi A6 Allroad rival
Engineering boss hints at pumped-up semi-SUV version of new Mercedes E-Class Estate to rival Audi A6 Allroad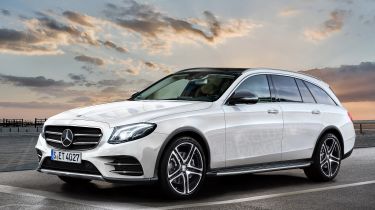 Mercedes is planning a more rugged version of its new E-Class Estate, to rival the ageing Audi A6 Allroad, and our exclusive image shows how it could look. It could launch as soon as next year, with a choice of diesel and plug-in hybrid powertrains.
Speaking from the reveal of Merc's all-new E-Class Estate in Stuttgart, chief engineer Michael Kelz told Auto Express the brand needed to do something "to make estates closer to SUVs".
He told us a competitor for the A6 Allroad is "not too far out", meaning we could see a more off-road-biased E-Class before the end of 2017. Voicing his concerns for Mercedes' latest load-lugger, Kelz recognised the continuing growth of the global SUV market but insisted he had plans to limit the decline of the brand's biggest estate model.
It's unclear what an Allroad-fighting E-Class would be called, but it's likely to retain the E badge rather than inheriting the GL moniker used for the company's pure SUVs. The car would likely get some extra body cladding and skid plates to mark it out from the standard car, as well as extra ground clearance to improve its off-road ability.
Engines for the new model would kick off with the four-cylinder E 220d and more powerful V6 E 350d. A fuel-efficient petrol-electric plug-in hybrid is expected to join the rest of the E-Class range, so it would make sense to see it in the Allroad rival, too. While some may wish for an AMG version, it's not expected in the near future.
But it's not only Mercedes looking for a slice of the SUV-estate pie, as this week our spy photographers caught the new Volvo V90 Cross Country testing on European roads. Volvo has long occupied this sector with the V70 Cross Country, but that car was discontinued along with the standard V70 estate earlier this year.
Audi widely regards Allroad customers among its wealthiest and most loyal buyers, so a direct competitor could be a smart move for Mercedes. With the new Mercedes E-Class Estate priced from around £37,000, a jacked-up 4x4 version should start at nearly £40k. A plug-in variant might cost £3,000 more.
Would you buy a more rugged E-Class Estate? Let us know why below...