Mercedes reveals bulletproof S-Class S-Guard edition
Most advanced version of armoured Mercedes S-Class is able to withstand attack from bullets, grenades and gas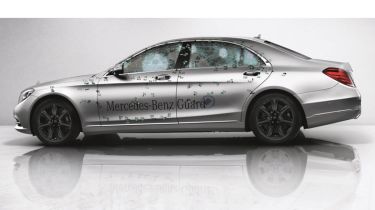 Mercedes has added the latest S-Class limousine to its range of 'Guard' armoured vehicles. Slotting in above the ML-based M-Guard and G-Class G-Guard, the new S-Class S-Guard is the toughest Mercedes yet.
Based on the 523bhp twin-turbo V12-powered S600, the S-Class S-Guard transforms into bulletproof presidential transport at a dedicated factory in Sindelfingen, Germany. The cars are hand-built to ensure maximum strength and attention to detail, with even the bare bodyshells getting reinforced. Welds and seams are double-plated, and seals are compressed to seal the S-Guard's interior from the hostile outside world.
Armour-plating is cut to fit on-site, and bolted into the car to give true bulletproof ability. In the scale of vehicle toughness, the new S-Guard is one of the world's only 'VR9' rated cars. It's able to withstand hits from grenades, mines, and stop projectiles travelling twice the speed of a regular handgun bullet. Unique to a civilian vehicle, armour almost entirely covers the underbody area for the first time. The fuel tank is also replaced in favour of a self-sealing fuel cell that can absorb shockwaves from explosions and heal itself to prevent fuel leaks if ruptured.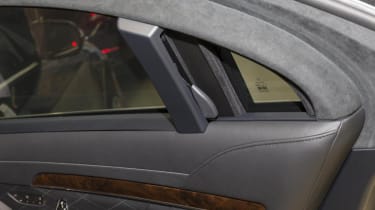 It's not just the S-Guard's body panels which stop attackers in their tracks, though. The car's windscreen is replaced by a 10mm-thick sheet of reinforced glass, which weighs 135kg. The treatment is also used for the side and rear windows, while the floor is said to be strengthened with carbonfibre. The full suite of modifications is calculated to double the S600's 2,165kg kerbweight.
Despite this, Mercedes claims the exterior is almost identical to the regular S-Class, allowing passengers to travel under the radar as far as possible. Available in five and four seat guises, it comes with almost all the same standard kit, including the Driver Assistance package PLUS, 360 degree cameras, and AIR-BALANCE filtration tech. 
Alongside the improved structural security, the S-Guard also boasts run-flat tyres with a special pressure monitoring system good for 19 miles of travel when damaged, plus optional extras like opaque roller blinds, an emergency fresh air system and a panic alarm.
On top of the eye-watering cost of a normal £139,985 S600, upgrading the car to VR9 S-Guard specification is estimated to cost in the region of £150,000. Despite the prodigious price, the S-Guard is likely to become a common sight at global political summits and royal events, given the current model has seen service ferrying dignitaries and wealthy (if paranoid) buyers from ninety different nations.