Mercedes S63 AMG Coupe vs Porsche Panamera Turbo S video
The Mercedes S63 AMG Coupe is an impressive piece of engineering - but how does it stack up against Porsche's Panamera Turbo S?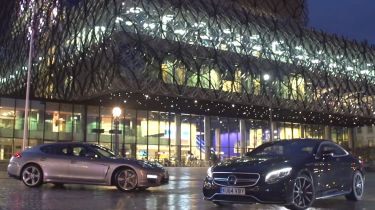 The Mercedes S-Class Coupe promises to be one of the most luxurious and stylish two-door coupes money can buy, and in S63 AMG guise it aims to take the fight to the likes of the Porsche Panamera Turbo S.
The Mercedes packs a 576bhp punch from its 5.5-litre twin-turbo V8, while the Porsche has a 4.8-litre twin-turbo V8 under its bonnet - putting out 562bhp. Both cars are capable of reaching a top speed in excess of 180mph, but aim to deliver a refined and luxurious driving experience at the same time.
We took to the streets of Birmingham to get the public's opinion on the two cars - to see which one they thought was the most glamorous. The results are unanimous in favour of the stunning Mercedes.
Those lucky enough to be able to own these cars will want an interior that impresses, so we drove 150 miles at night to see which one was the most comfortable, refined and luxurious before heading out onto the test track the following day.
At the track, we pitted the Porsche against the Mercedes in a drag race, with the Porsche beating the Mercedes from 0-60mph, so we took to the track to see how they compare.
As our test proves, if you want to be fastest around the track, against a stopwatch or through the corners, then the Porsche is the one to go for. If you want the ultimate in cabin ambience, refinement and luxury, you'll be better off with the Mercedes.
There's no doubt that the people of Birmingham love the look of the new S-Class Coupe, but whichever one you choose, they're probably going to be all the car you're ever going to need.