"MINI has the character and soul that other car makers crave"
While many car brands still struggle with an identity, editor-in-chief Steve Fowler is impressed how MINI still manages to stand out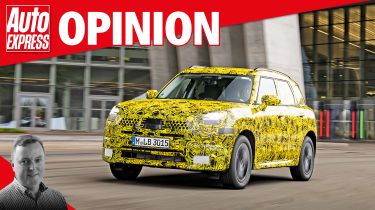 By any stretch of the imagination, launching three all-new cars in the space of a couple of years is tough work. Yet that's exactly what MINI is going to do.
It's not exactly a whole range reinvention, but it comes close. There's a greater degree of electrification added to the traditional go-kart handling and distinctive MINI style; once the camouflage is lost, the new cars will still look very much like MINIs, inside and out.
But it's not only the cars that impress me with MINI; it's also the way that BMW has gone about revitalising the great British brand – including how it sells those cars.
On holiday in the US recently I took my American folks to their local MINI dealer in Scottsdale, Arizona to check out the MINI Convertible they had their eye on. I appear to be a magnet for bad dealer service, yet MINI's approach – whether in the US or here at home – has always been refreshingly different. The firm's sales staff dress casually, but on-brand, and they're always hugely enthusiastic and knowledgeable.
When I spent time with MINI's boss, Stefanie Wurst, recently, she underlined how important Britishness is for MINI and how proud she was of the job BMW had done. "I think we have modernised MINI," she said, "but we haven't stolen its soul. This is a big achievement, because Germans can be quite technical. But we have managed to preserve the aura and the soul of the brand."
She also outlined how the sales process will change, as it will for many brands, with an agency model meaning the manufacturer takes more control. We're assured the 'MINI difference' in showrooms will remain, though.
As it becomes increasingly difficult to differentiate cars and car brands, MINI stands alone as something different: a cool brand with, as Wurst says, a soul. The new models look set to build on that – cars that will put a smile on your face. And are still brilliantly built in Britain.
Click here to read more about the new MINI Cooper ahead of its 2024 arrival...