All mobile phone use behind the wheel to be banned
A Government consultation seeks to update UK law in line with modern technology and close loopholes allowing drivers to take pictures and video at the wheel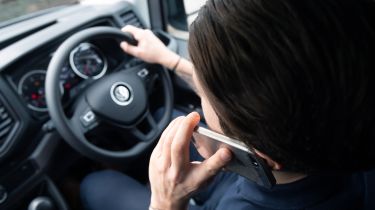 All mobile phone use behind the wheel is set to be banned, with the Government launching a consultation to update the law in line with the way technology has advanced.
The consultation, announced by roads minister Baroness Vere, will look at closing a legal loophole whereby drivers can only be prosecuted for using a mobile phone behind the wheel if they're performing an "interactive communication", such as a phone call, texting or using the internet.
• New laws needed for hands-free in-car phone calls, says expert
The current loophole means motorists who use their phones for purposes such as taking photos or filming while driving are not technically in breach of the law - an argument that has been successfully made in court.
The Department for Transport (DfT) conducted a review of the law and the resulting consultation will seek to establish that drivers caught taking photos, playing games or scrolling through a playlist behind the wheel will be clearly breaking the law.
The Government has said, however, that it recognises mobile phones are commonly used to make contactless payments. As such, the law will include an exemption allowing drivers to pay for goods and services from the driver's seat - such as a takeaway meal at a drive-through restaurant or a road toll - as long as the vehicle is stationary.
• Police to trial mobile phone detectors for drivers
The DfT also explained that its ministers have rejected calls to ban the use of hands-free functions - drivers will still be able to use voice commands and infotainment systems on their phones while driving.
Edmund King, president of the AA, commented: "There is no excuse for picking up a mobile phone when driving so we are pleased this loophole will be closed.
"Phones do so much more than calls and texts, so it is only right that the law is changed to keep pace with technology. Tweets, TikTok and Instagram snaps can all wait until you park up.
"These new rules will clarify the law and help drivers realise that this dangerous act can have the same consequences and be as socially unacceptable as drink driving. If you can't resist the temptation to pick up your phone, then you should convert your glovebox into a phone box."
Now check out our test of the best in-car mobile phone holders on the market...