Mazda launches updated e-Skyactiv X powertrain 
New 2.0-litre engine is available in the Mazda3 and CX-30 with promises of improved efficiency over the old Skyactiv X unit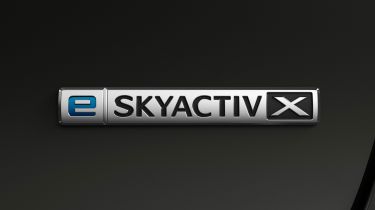 Mazda has updated its 2.0-litre four-cylinder mild-hybrid Skyactiv-X petrol engine, adding a little more power allied with a handful of new efficiency tweaks. 
Buyers can opt for the new revised e-Skyactiv X powertrain in the CX-30 crossover now, with prices starting from £26,300. The updated Mazda3 will be available to order from April, although prices are yet to be confirmed.
Upgrades for the e-Skyactiv X engine include modified pistons, a reflashed ECU, a slightly higher compression ratio and revised intake valve timing. The result is an extra 6bhp and 16Nm of torque, bumping up the unit's maximum output to 183bhp and 240Nm.
The 2.0-litre engine's belt-driven starter generator also features new software which increases responsiveness and enables smoother power delivery.
As well as the extra power, Mazda says its revisions have made the e-Skyactiv X engine more efficient than its predecessor. For example, the four-wheel drive CX-30 GT Sport emits 11g/km less CO2 than before, with a 2.4mpg improvement in fuel economy.
Mazda also says that, depending on specification, CO2 emissions for the range-topping e-Skyactiv X engine have dropped by between five and 11g/km across the Mazda3 and CX-30 line-ups. Like the old model, buyers will also have their choice of either a manual or automatic gearbox and either front- or four-wheel drive.
The CX-30 is offered in a choice of four trim-levels – SE-L Lux, Sport Lux, GT Sport and GT Sport Tech. Standard equipment for the base-model includes 16-inch alloy wheels, LED headlights, a reversing camera, dual zone climate control, a seven-inch digital instrument cluster and an 8.8-inch infotainment system.
Prices for the mid-range CX-30 Sport e-Skyactiv X start from £27,840. Upgrades over the base model include 18-inch alloy wheels, adaptive LED headlights, rear privacy glass and a power-operated tailgate.
The GT Sport e-Skyactiv X starts from £29,600 and adds black leather upholstery, a heated steering wheel and a 12-speaker Bose stereo system. The flagship GT Sport Tech e-Skyactiv X adds a 360-degree camera, front cross traffic alert and a driver monitoring system. Prices start from £30,500.
Mazda's entry-level 120bhp 2.0-litre Skyactiv-G engine has received a similar range of upgrades, which have dropped its CO2 emissions by 7–8g/km across the Mazda3 and CX-30 line-ups. Mazda has also renamed the unit e-Skyactiv G to match the range-topping engine's branding.
Now read our review of the Mazda CX-30. Let us know your thoughts in the comments section below…