Kia UK boss bemoans lack of electric car charging investment and warns of 'blackspots'
Kia UK CEO Paul Philpott says support for EV charging infrastructure investment is critical as the ban on petrol and diesel approaches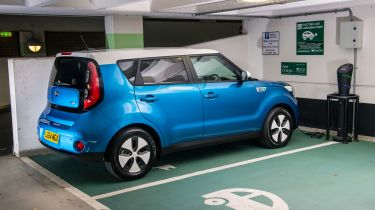 The UK Government needs to support private investment in the country's charging infrastructure if it is to avoid 'charging blackspots' in the network, the boss of Kia UK has suggested.
The Korean brand, which was the UK's second biggest pure-EV brand in the first six months of 2021, after only Tesla, is about to launch its new flagship EV6 model - the first of seven new bespoke EVs that will arrive between now and 2026. Speaking to Auto Express, Kia UK President and CEO Paul Philpott said that support for private investment in the charging infrastructure is now "critical" as the UK car market moves towards a ban on pure-combustion engine sales at the end of this decade.
"It needs to happen," Philpott said. "We're only eight and a half years away from that ban now. Yes, 90 per cent of charging still happens at home and the workplace but that will change. We need to be sure there's enough of a network spread, and Government will need to involve private industry in that.
"It's all very well having clusters of chargers on the M6 and M1, but what about people who want to buy and drive EVs in North Wales? Private businesses will always look to invest where the people are, and the return is; Government support is needed to make sure we have enough chargers, and on trunk roads across the UK."
Pure-electric cars made up more than 14 per cent of Kia's UK sales during the first six months of 2021. Philpott said he expects this trend to continue, boosted by more than 10,000 expressions of interest in the EV6 (whose price starts at just over £40k) and over 1,000 orders for the vehicle itself, almost entirely from buyers who have not seen the car.
Where do you think the UK's electric car charging infrastructure will be when the 2030 ban on new ICE cars comes around? Let us know in the comments...