A new Nissan Leaf is the brand's 150 millionth vehicle
Nissan has produced its 150,000,000th vehicle, reaching the landmark after 84 years in business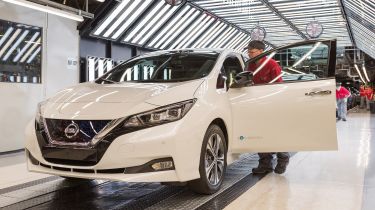 Nissan has manufactured its 150 millionth vehicle, hitting the milestone in 84 years.
A prototype of the new Leaf was the model that helped Nissan reach the 150 million mark. Back in 2006, Nissan had produced 100 million vehicles but it has taken only 11 years to make a further 50 million.
When Nissan clocked up 100 million vehicles, 76.5 per cent of the cars were produced in Japan with the remainder being assembled in five European factories. Those European factories (three in Spain, one in the UK and the other in Russia) were responsible for 13 million assembled Nissan vehicles.
• Best of British: Nissan's Sunderland success story
Nissan has been particularly prominent in the UK, where its Sunderland facility has been a key player for the Japanese manufacturer's European production line.
Sunderland is where the Qashqai, Juke and the fully electric Leaf are produced, while also putting out Nissan's luxury offshoot Infiniti models, the Q30 and QX30. Production of the next-generation X-Trail SUV will also move to Sunderland.
Since opening in 1986, over nine million vehicles have been produced in the factory, 70 per cent of Nissan's European production, with over half a million vehicles manufactured in 2016 alone.
Do you own a Nissan? Let us know about your experiences below...