Nissan suspends Japanese production line due to faulty inspections
An investigation by Japanese authorities revealed that unauthorised workers conducted final vehicle checks affecting 34,000 cars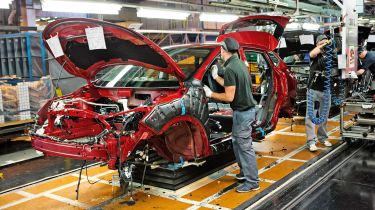 Nissan has suspended production across all of its Japanese plants indefinitely due to unauthorised final vehicle inspection tests being carried out.
According to the manufacturer, the issue has affected approximately 34,000 registered and unregistered vehicles produced between 20 September and 18 October. The inspection issue has affected cars built for the Japanese market only, so Japanese-built models destined for the UK will not be affected. Unregistered cars will have to be re-inspected at Nissan's dealerships, while registered cars that are affected will have to be recalled.
• VW emissions scandal: unfixed cars could be de-registered in Germany
A third-party investigation team commissioned by the Japanese Ministry of Land, Infrastructure and Transport (MLIT) brought up the issues to Nissan on 18 September. Nissan took corrective measures suggested by the MLIT by 20 September.
Despite Nissan's corrective measures, the investigative team found that in three of Nissan's production plants, unauthorised technicians conducted certain parts of the final inspection process without the proper qualifications required.
• Mercedes recalls 400,000 UK cars over faulty airbag system
The investigators also found that parts of the final inspection were transferred to other inspection teams such as the 'offline' and 'marketability' departments.
Due to this exposé, Nissan has suspended production in all of its Japanese facilities. The marque has also made the decision to separate the final inspection line from other manufacturing processes and that only internally registered final vehicle inspectors will be allowed through.
Nissan and the Japanese MLIT will continue to investigate the issue until it is fully resolved. Until then, there will be no Nissan, Infiniti or Datsun vehicles coming out of Japanese factories.
Are car manufacturers accountable enough? Give us your opinion in the comments section...