Mercedes recalls 400,000 UK cars over faulty airbag system
Recall applies to A, B, C, E and CLA, GLA and GLC models built between November 2011 and July 2017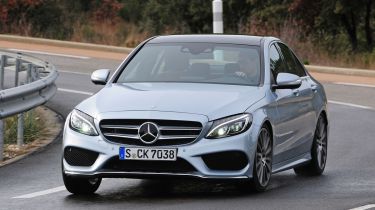 Mercedes has announced it will recall 400,000 models in the UK after it was alerted to incidents of airbags accidentally deploying.
The recall will apply to A-Class, B-Class, C-Class, E-Class and CLA, GLA and GLC models built between November 2011 and July 2017. Mercedes says a clock spring in the steering column could break, causing the airbag to deploy. The recall will allow Mercedes dealers to replace the clock spring.
The fix will take around one hour and will be performed free of charge. Mercedes also points out the recall is unrelated to any Takata airbag recall.
• UK car recalls: everything you need to know
Cars are safe to drive under normal conditions, but owners are warned that if a red airbag warning light appears on the dashboard they should make immediate contact with their dealer or call Mercedes-Benz Roadside Assitance (00800 1777 7777). If the car's wiring isn't correctly earthed the airbag could accidentally deploy.
Though no instances of the airbags prematurely deploying have been recorded in the UK, Mercedes says there have been 30 cases worldwide. The company has said there have been no fatalities.
Both the Mercedes A-Class and C-Class feature regularly at the top of the UK car sales charts and the large numbers of these models on the roads contribute to the 400k cars involved in the Mercedes recall.
Do you own one of the recalled cars? Let us know in the comments...