Nissan to sell 1 million electrified vehicles a year by 2022
Japanese giant has revealed plans to sell a million EVs and hybrids every year by 2022, with new Leaf leading the charge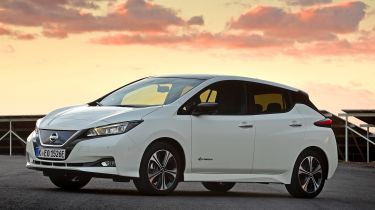 Nissan will aim to sell 1 million electrified vehicles each year by 2022, building on the success of the all-new Leaf EV. The plans, called 'Nissan M.O.V.E. to 2022' include eight all-electric models, and China-specific EV sub-brands.
Philippe Klein, Nissan's chief planning officer, said: "Our strategy is dedicated to positioning Nissan to lead the automotive, technology and business evolution.
• Best electric cars on sale 2018
"Our efforts are focused on delivering Nissan Intelligent Mobility, encompassing the three core elements of electrification, autonomous drive, connectivity and new mobility services," he added.
Nissan expects electrified vehicles to account for 40 per cent of the company's sales in Europe and Japan by 2022. This figure will rise to 50 per cent by 2025.
As part of this, Nissan will launch a product offensive in China this year, led by a new Leaf-based C-segment EV. In addition, Nissan is planning a more affordable small SUV, created via a Renault-Nissan-Mitsubishi Alliance joint venture eGT New Energy Automotive. Two further derivatives are also being prepared.
Elsewhere, Nissan has stepped up plans for its ProPilot technology, suggesting the autonomous hardware will feature in 20 models across 20 markets by 2022. Like it's electric tech, Nissan hopes to sell one million ProPilot-equipped vehicles each year by 2022.
In other news, sister brand Infiniti has announced plans to launch electrified cars in 2021. Within four years, it expects said models to account for 50 per cent of global sales.
Could you live with an electric car? Here are the pros and cons to driving an EV…