Nissan Qashqai, Juke and X-Trail pass 1m UK sales landmark 
93 per cent of all Nissan crossovers sold in Britain since 2007 have been made in Sunderland thanks to the success of the Qashqai and Juke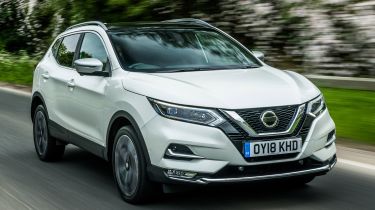 Nissan says that its crossover line-up has 'gone platinum' with over one million models from the Juke, Qashqai and Mk3 X-Trail ranges sold in the UK since 2007. 
No fewer than 93 per cent of those cars were made in Britain at the firm's Sunderland manufacturing plant. That adds up to a total of 932,938 British built models finding homes with UK customers over the past 14 years. 
Introduced in 2007, the Qashqai - which will enter its third-generation with an all-new model rolling off the Sunderland production line later this year - has amassed over 620,000 British sales, with the second-generation model proving a huge hit with Brits. 
No other car is currently built in greater numbers in Britain and the Qashqai has been a fixture in the UK's top ten best-selling cars list, so it should be no surprise to see over 373,000 Mk2 Qashqais have found a place on UK driveways. 
The smaller, supermini sized Juke crossover is also made at the firm's Sunderland plant, and has since amassed over 310,000 sales since its introduction to the UK market in 2010. 
The largest car in what Nissan deems it's UK 'crossover' range is the X-Trail, which is built in Japan. The third-generation model makes use of the same underpinnings found under everything from the Qashqai to the Renault Megane family hatchback. Since its introduction in 2014, over 67,000 third-generation X-Trails have been sold in Britain. Previous X-Trail generations were popular here too, but Nissan isn't including them in its '1m crossover sales' calculation, presumably because it sees them as more off-road focused SUVs rather than crossovers. 
Later this year, the brand's current line-up will be joined not just by an all-new version of the Qashqai with hybrid power for the first time, but also by an entirely new proposition - an electric crossover called Ariya. The newcomer will be built on the Nissan-Renault-Mitsubishi Alliance's new CMF-EV platform and capable of up to 310 miles on a single charge.
Have you ever owned a Nissan crossover? Tell us about it in the comments...