New Nissan Kicks crossover revealed but no word on UK launch
The new Nissan Kicks is here and confirmed for production in Latin America with potential for sales in other markets
The Nissan Kicks has finally been revealed ahead of its South American launch later this summer. It's our first official look at the small crossover initially destined for the Brazillian market. There is currently no information on whether or not we'll see it in European showrooms in the future.
Nissan has unveiled the face of its new Kicks SUV last month, but now we've seen the car in full. The front looks like a scaled-down version of the current Nissan X-Trail, while the rear looks like a tweaked version of the Renault Captur. The car will be showcased across Brazil this summer to promote the 2016 Olympic Games, of which Nissan is a lead sponsor.
The Captur's funky styling and personalisation options appear to have transferred to the baby Nissan, with the car in our pictures sporting a cool red roof. The rising shoulder line gives a dynamic stance, with the floating C-pillar should give it upmarket appeal. Despite being pitched as a car for emerging markets, inside you'll find a touchscreen infotainment system and a sporty flat-bottomed steering wheel.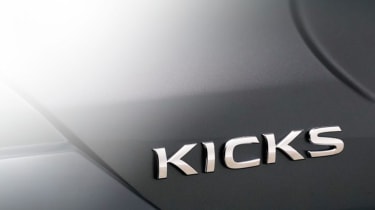 Earlier this year, Nissan confirmed its plans to produce a budget crossover for the Latin American market, with "ongoing studies for other regions" already in place. The SUV will start production "within FY16" at the brand's facility in Rio de Janeiro, which has recently undergone a $192m (£131m) investment to prepare for the new car. The plant was inaugerated in 2014 and currently produces compact cars like the Latin American Nissan Micra.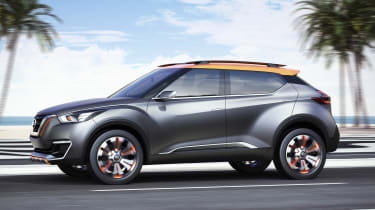 Carlos Ghosn, president and chief executive officer of Nissan, said: "Nissan invented the crossover in 2003, with the Murano. Since then, we've established our global crossover leadership with vehicles like Juke, Qashqai and X-Trail – which have been great successes. The Kicks will bring Nissan's unique Crossover expertise to more regions."
The Kicks was the second show car to debut at the expo in recent years, following the EXTREM coupé concept in 2012, and is the result of a collaboration between Nissan's design studios in San Diego and Rio. It's designed to hit a 'sweet spot' between a traditional compact SUV and a performance car.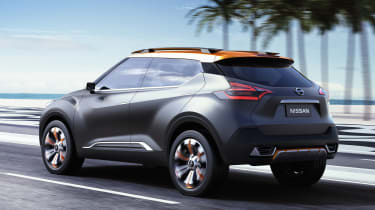 "Where the stance of the Frontier pick-up might be compared to a power lifter and the GT-R a world-class sprinter, the Kicks Concept is like a Brazilian Jiu-jitsu fighter – coiled for action and precise in every movement," said executive design director Mamoru Aoki.
The Kicks will be slightly longer, higher and wider, than the European Juke, with a longer wheelbase, too. Allegedly built on the same platform as the Nissan Note, the Kicks will sit above the Juke in terms of size, but below it in price and quality.
Small crossovers are booming in South America, where the high suspension and body cladding are perfect for dealing with poor road surfaces.
What do you think of the new Nissan Kicks? Should Nissan bring it to Europe? Let us know in the comments below…