How to use a puncture repair kit (sponsored)
What are puncture repair kits, and how do they work? We reveal all.
More and more new cars come without spare tyres and instead are fitted with puncture repair kits – sometimes referred to as tyre foam.
They're easy to use and are quicker than replacing a wheel. Less time at the side of the road equals greater safety. Here's how to use them.
Most modern cars come with a tyre pressure warning system. If a warning light or message flashes in your instrument cluster, pull over in a safe place as soon as you possibly can.
If your car doesn't have tyre pressure monitoring, then the telltale signs are vibrations and judders through the steering wheel. It may be accompanied by unusual droning noises too.
Once you stop locate the puncture, taking care that the tyre isn't hot – blow outs are often caused by heat building in a flat tyre. Once you've found the cause of the puncture, leave it there. Removing a screw or nail can increase the size of the air leak meaning the puncture repair kit may not solve the problem.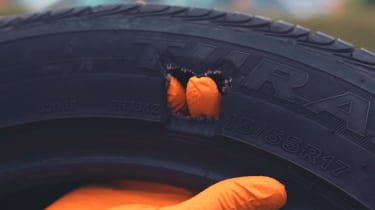 Next, retrieve the bottle of sealant and the compressor which comprise the puncture repair kit. These should be under your boot floor; the sealant plugs the hole in the tyre and the compressor re-inflates it.
In your puncture repair kit there should be a sticker to attach to the steering wheel, or anywhere in the driver's line of sight, as a reminder not to exceed the maximum speed.  
Next, remove the dust cap and attach the compressor to the tyre's valve. Then attach the bottle of sealant to the compressor - it'll usually screw in - and plug the compressor into the nearest 12v socket.
Switch on the engine and the compressor. Around 10-15 minutes later the tyre should be inflated.
Once you're done, disconnect the compressor from the tyre valve and replace the dust cap. You'll need to replace the puncture repair kit, so call your local Nissan dealer as soon as you can.
But what happens if you have a rip or a larger hole? Don't use the kit on punctures that are bigger than 4mm or if the wheel rim is damaged.
More Nissan Service Care tips...
• How to prepare your car for your holidays• How to look after your tyres• How to top up and check your engine oil• How to change your car air filter• Five ways to help pass your MoT