Slow punctures: should you repair them and what are the dangers?
Tips on what to do with a slow puncture on your car tyre. Is it safe to drive on and when you can repair it?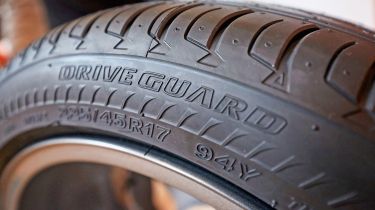 Tyres are a very important part of your car – after all, they're the only components that remain in contact with the road surface. Because they're your link between the car and the tarmac, it's crucial that you keep on top of the tyres, and make sure they're in a safe and roadworthy condition.
It's definitely worth knowing what to look out for if you have a slow puncture. As its name suggests, a slow puncture means your car's tyre gradually loses pressure over time, which means you could end up driving lots of miles before you notice there's a problem. 
You also run a higher chance of having a serious accident later down the line if you don't realise one of your car's tyres has an air leak. Drive too long with a slow puncture, and you could be on the receiving end of a major tyre failure that can put the safety of yourself, your passengers and other road users at risk.
There are early warning signs that can alert you to a slow puncture problem. While you're driving your car, it may start drifting to the left or right sides of the road as the tyre deflates, and you may also hear a regular ticking-style noise if the slow puncture is caused by a piece of debris pierced and stuck in the tyre. Many cars nowadays also now come with tyre pressure monitoring sensors, which can alert you with warning prompts on the dashboard if the system detects a loss of tyre pressure – though, as not all cars are fitted with this tech, it's best to not rely on this alone to warn you of a slow puncture problem.
If you catch a slow puncture early on, it may be possible to carefully drive the car for a short distance, as long as there's still enough air in the tyre to keep it sufficiently inflated. However, because more air will leak out the more you drive the car, you should only do this if the journey is absolutely necessary. Regardless of how bad the puncture is, you should have the faulty tyre repaired or replaced as soon as possible. 
Does your car have a slow puncture?
So what are the signs of a slow puncture? Well, the Highway Code tells drivers to give their car a visual inspection before driving off, and hopefully, that will help you spot a slow puncture before it turns into something worse. If a tyre looks a little out of shape when compared with the other tyres on the car, that could be a sign of a flat or a partial deflation.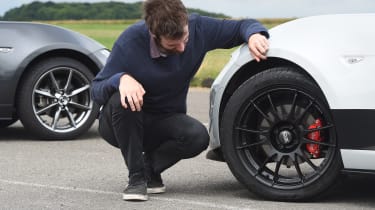 Another visual clue could be odd wear to the sidewall. If a tyre is dirty and has low pressure, then the sidewall will be in contact with the tarmac, which will 'scrub' the tyre clean, giving a better visual clue to a slow puncture by creating a black sidewall that you can pick out clearly through the dirt.
Of course, the other giveaway would be a piece of debris stuck in the tyre itself. We're not saying you should get on all fours to give the rubber a proper inspection, but is there a screw or a nail that's obviously embedded in the tread or the external sidewall? If it's in the tread, it should be easy to spot, as the head will be polished clean if it's in contact with the road when you drive.
Partnership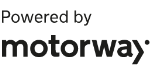 Need to sell your car?
Find your best offer from over 5,000+ dealers. It's that easy.
Every car owner should at least have a tyre pressure gauge that allows them to check their tyre pressures accurately. Our tests have shown which ones are the best, and if you buy a foot pump or automatic tyre inflator, then you should be able to easily see if a tyre is losing pressure.
When you're driving, there will be audible clues to a slow puncture. It could be that a piece of debris in the tyre 'click-clicks' on the road for every revolution of the wheel. Or there may be additional road noise coming from a tyre that has less air pressure in it - if you think something isn't right, turn off the radio and shut the windows so you can hear things properly and identify if you have a slow puncture.
Modern cars are now required by law to have tyre pressure monitors fitted as standard. These use sensors in the wheel that detect a loss of pressure. As soon as one tyre drops a couple of pounds of pressure in comparison to the other four tyres, a warning will flash up on the dashboard to alert the driver.
Should you repair a slow puncture?
If you do have a slow puncture, it's best to see if a repair is possible from your local garage, tyre fitter or a big chain like Halfords or Kwik Fit, and get it fixed as soon as possible. Driving on a slow puncture for any longer than necessary is dangerous because that slow puncture is more likely to become a fully flat tyre the longer you keep using it.
The usual culprit of a slow puncture will be debris that has pierced the rubber. If it's a nail or screw that has gone through the tread of the tyre (the flat part of the tyre that is in contact with the road), then it will be possible to repair the tyre with a rubber plug that a repair shop can fit. However, if the damage has happened to a high-performance tyre a repair of this type may not be possible, as some tyre speed ratings are not recommended for repair due to the higher stresses put upon them.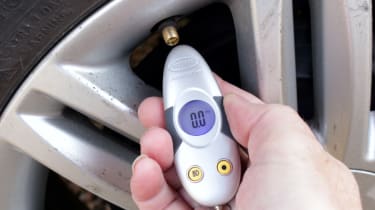 If the damage is to the sidewall of the tyre, then it cannot be repaired regardless of the tyre type. This damage will be to the main structure of the tyre that supports the tread, so it will weaken the tyre, which will affect its ability to perform properly.
You may be tempted to do a home repair with a puncture repair kit, which you will find in cars where a spare wheel is an optional extra. However, the 'gunk' that's used to seal the hole is only a temporary fix until the tyre can be properly repaired, so you'll end up having to get the tyre fixed anyway.
Another potential cause of a slow puncture is a corroded wheel. If a steel wheel is rusty, it might cause gaps where the parts of the wheel are welded together. On alloy wheels, corrosion is very different. If it's very severe, it could cause the metal in the wheel to become porous, allowing the air to slowly seep through the metal. That's an extreme case, but it's also common with cars featuring magnesium alloy wheels, as magnesium is naturally porous.
• Best tyre tread depth and pressure gauges
You could also suffer a slow loss of air if the wheel is kerbed or damaged in some other way. If the rim has a dent in it, that might be enough for air to seep out. Whether a wheel is damaged or corroded, you could seek advice from a wheel refurbishment company on whether a repair is viable, or replacement is the only solution.
In any case, the best advice is to stay on the lookout for slow punctures and other damage by checking your car tyres on a regular basis. If you detect a slow puncture, don't ignore it as you'll only be increasing the chance of a bigger problem developing at some point in the future. Get the tyre seen by professionals and either repaired or replaced as soon as possible.
Think you have a slow puncture? Take a read of our test to find the best tyres to help find a replacement...