"Is compensation in the wake of Brexit financially viable?"
After a commitment from Nissan to remain in the UK post-Brexit, Graham Hope wonders how the Government's pledge to manufacturers will work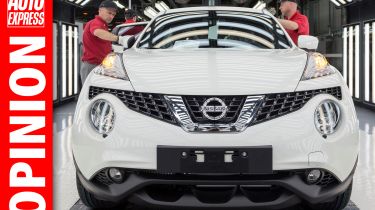 Let's get one thing straight from the start: Auto Express is delighted that the future of Nissan's Sunderland plant has been secured with the confirmation that the next Qashqai and X-Trail will be built there. It's a huge relief for the workers and Wearside as a whole, and well deserved on account of the plant's remarkable productivity.
The aftermath to the announcement has been puzzling to say the least, though – in particular Business Secretary Greg Clark's assertion that other car makers with UK operations, such as Vauxhall, Ford and Toyota, would benefit from the same assurances that helped make up Nissan's mind to stay here following our vote to leave the EU.
• Brexit spells uncertainty for UK car industry
What this means is unclear, but it's been widely interpreted that the Government may provide compensation for manufacturers if export tariffs are imposed in the wake of a 'hard Brexit'.
While this stance has been lauded by some as sensible recognition of the importance of the car industry to the UK, surely it's a promise that can't be made at this stage? Firstly, it's hard to see how these assurances could only be made to car makers and not widened to other industries. That would cause major unease. And is it even financially viable? If tariffs are imposed, insulation from them, whatever the Government is proposing, won't come cheap. 
• General Motors warns of Brexit cuts in Europe
And of course, there's the never-ending uncertainty that surrounds the whole Brexit question, illustrated yet again by last week's court ruling that MPs have to be consulted before the UK can actually trigger exit negotiations. Will we go? If so, when? And how?
In truth, nobody knows, which is why I take Mr Clark's comments with a pinch of salt. Nissan's commitment to the UK is great news for it and Sunderland, but let's not pretend that it sets a real precedent for the rest of the British car industry.
Do you agree with Graham? Let us know in the comments below...