Nissan Juke facelift first teaser
Nissan gives first taste of Juke facelift ahead of Geneva Motor Show debut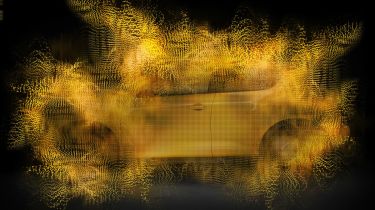 This is our first, obscured look at the facelifted Nissan Juke. The revised crossover will be unveiled in full on the morning of the first Geneva Motor Show press day, which takes place on March 4, and expected to go on sale soon after.
The image gives very little away, aside from the fact that the Juke's profile doesn't appear to have changed much over the existing Ford EcoSport rival.
However, the fact that the head and tail-lights are obscured implies that these are set for a change on the new car. Our previous spy pictures showed that the Juke's signature front-wing blade lights will become more arrow shaped, for example. New bumpers front and rear are also expected.
What's more, the striking bright yellow paint should help the new look car stand out, while you can just make out the fact that the black alloys have yellow strips painted on them – a hint that the facelifted Juke will offer more personalisation options than before.
As for other changes, expect higher quality materials to be used in the cabin, and an upgraded infotainment system to be added, including the larger touch screen from the new Qashqai.
Revised engines from the Qashqai are expected to be carried over to the Juke, too. The biggest-seller will undoubtedly be the 108bhp 1.5 dCi with CO2 emissions well below 100g/km, but the biggest change will be a 113bhp 1.2-litre turbocharged petrol to replace the old 1.6-litre unit.
To coincide with the facelift, Nissan will also add a new range-topping Juke Nismo RS model. Expect power to climb from 197bhp in the standard Juke Nismo to 212bhp with a 0-62mph time of around 7.5 seconds.