Nissan Juke Tekna 2014 review
Nissan Juke Tekna gets updates for 2014 to keep up with strong rivals from Renault and Peugeot
If you weren't a fan of the Nissan Juke's aggressive styling and sporty drive before, you still won't like it. But loyal Juke drivers won't be put off. The personalisation options are appealing and a bigger boot makes up for slightly cramped rear seats. Nissan has stuck to its guns here, and that's fine by us.
Has there ever been a more trend-setting car than the Nissan Juke? When it arrived to a 'Marmite' reaction in 2011, it seemed too bold for drivers to warm to. But in the past three years, every budget, mainstream and premium maker has already launched – or is developing – a rival. Faced with a host of rivals, like the Renault Captur, Peugeot 2008 and forthcoming Audi Q1, Nissan has had to up the Juke's game – and Auto Express has driven the newly facelifted model.
Once its Achilles heel, the Juke's polarising styling has become its most important asset, so it's no surprise that changes are minimal. There's a new 'Qashqai-style' front grille, new mesh trim beneath the bumpers and revised tail-light clusters, while striking new LED daytime running lights and a refreshed interior complete the cosmetic tweaks.
In a bid to take a bigger bite our of Fiat 500 and MINI sales the new Juke is also more customiseable than ever, with over 300 colour configurations possible.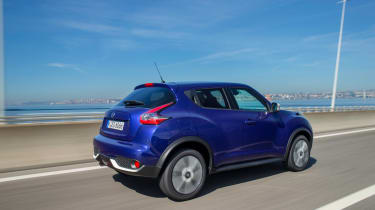 Along with body-matching coloured trim, the interior can now be ordered with an optional opening panoramic sunroof for £750. There's also 40 per cent more boot space in front-wheel-drive models, at 354litres, thanks to the spare wheelbeing moved underneath the car.
Unfortunately, space is as before: fine in the front, but tight in the back, made worse by the shallow rear windows and dark colour schemes. Nissan's Safety Shield system (standard on Tekna, £400 on Visia, Acenta and Acenta Premium models), which debuted on the new Qashqai, has also been added and includes lane departure warning, blind spot warning and 360-degree cameras around the car.
The top-selling engine will still be the 108bhp 1.5 dCi, but the choice is now a little harder thanks to the arrival of a new 113bhp 1.2 DiG-T already fitted to the Qashqai. It replaces the old 115bhp 1.6-litre naturally aspirated unit and delivers improvements in fuel economy and emissions of 3.3mpg and 10g/km, while reducing the 0-62mph time by two-tenths of a second. Despite its tiny capacity, it gains speed rapidly, disguising any turbo lag well.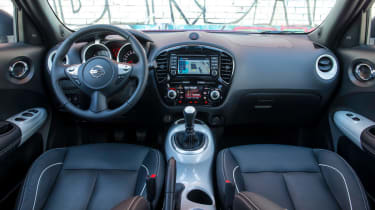 Overtaking manoeuvres and steep hills will require you to drop a gear or two, especially with a car full of passengers. However, the precise action and well spaced ratios on the six-speed manual make this less of a chore than you might think. Beyond that, the revised Juke has kept its qualities and, sadly, its faults. The elevated driving position and well controlled body roll through corners make it more fun to drive than any of its competitors. But push it too hard and a lack of front-end grip, leading to understeer, reminds you you're in an SUV, not a low-riding hatch.
Tekna models are equipped with 18-inch wheels, which affects the ride comfort slightly, but the Juke has always been tuned for sportier reactions over a plush ride.