Nissan Juke automatic review
The Nissan Juke automatic is set to be a popular version of the new compact crossover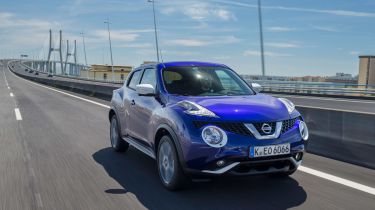 The Nissan Juke automatic is likely to be a popular choice, and it's suitably easy to drive - especially as it largely goes without the usual grievances of a CVT.
The new Nissan Juke automatic is likely to be a very popular version of the company's latest incarnation of its compact crossover. Launched in 2011, the Nissan Juke created a whole new segment in the market and spawned a breed of supermini-based SUVs, including the Vauxhall Mokka, Peugeot 2008, Renault Captur and the Mitsubishi ASX.
In the past the Nissan Juke's CVT (Continuously Variable Transmission) gearbox has not had the best press. The system uses pulleys and cones - more akin to a rubber band rather than a traditional gearset - which caused an irritating engine whine. But Nissan has worked hard to eliminate those critisims, creating their new much smoother X-tronic CVT automatic 'box.
Nissan has cleverly engineered in steps that now make it feel more like gearchanges from a double-clutch gearbox. So there's no more whining and no more rubber band feel, and moreover it delivers the same efficiency you're supposed to get in a CVT.
And it works – this is one of the nicest CVT boxes we've tried. It's smooth and quick to react, and in everyday driving it's a delight. Even when pushing harder and using the gearlever to shift manually through the fake gears, it's fun.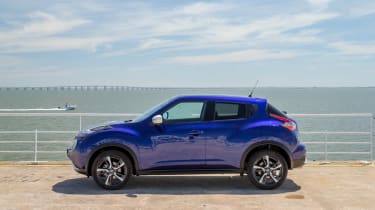 There are three specifications of Nissan's Juke fitted with the new X-tronic CVT automatic gearbox – the mid-spec Acenta, which comes with plenty of standard equipment such as 17-inch alloy wheels, climate control, Bluetooth and front fog lights. Step up a level to the Acenta Premium and you'll add a rear view camera, DAB radio and sat-nav.
Along with the option of a glass sunroof (£750) and Nissan's Safety Pack (£450) including a blind spot warning, lane departure warning and around-view cameras. Tekna is the range-topper and comes with leather upholstery, heated seats, cruise control and the Safety Pack.
Nissan has kept the choice of engines simple with the Juke Automatic: buyers can select from a normally-asperated 1.6-litre engine with 115bhp and 158Nm of torque or plump for the more powerful four-wheel drive 187bhp turbocharged version which will give you 240Nm of torque. This variant is capable of towing up to 1,150kg and should you want to, and will allow you to venture (slightly) off the beaten track. Fuel economy is reasonable with economy of 44.8mpg for the two-wheel drive 1.6-litre and 43.5mpg for the DIG-T engine.
However neither are particularly clean - the 1.6-litre puts out 145g/km of CO2, rising to 169g/km for the turbo-charged version meaning a road tax cost of £145 and £205 respectively.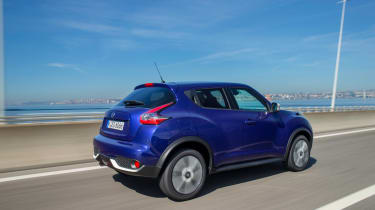 The Nissan Juke is a little SUV filled with bags of character and thanks to its frog-eye front end and wide grille, it's a purposeful looking car that has already won many fans. Nissan has carried on the Juke's striking looks to its back end, giving it a set of boomarang-style LED rear-lights and a more aggressive bumper.
While the Nissan Juke CVT Automatic will never be able to match traditional hatchbacks – such as the Ford Fiesta - on driving dynamics, it's still pretty decent to drive and is quite comfortable on the open road. Around town, the Nissan Juke's CVT's light steering makes driving straightforward but provides very little feel on a twisty B-road.
Despite its high driving position, the Nissan Juke automatic isn't the most practical supermini-based SUV on the market as a result of its sloping roofline significantly limiting the rear headroom. However the boot space has been increased by 40percent, now offering 354-litres bringing it more in line with its rivals. And with the seats folded flat to that increases to 1,189 litres.
The Juke's cabin feels a bit cheap in places and lack the upmarket feel of the Volkswagen Polo. However, it should be sturdy enough to stand up to daily wear and tear. Fortunately, Nissan has placed plenty of useful cubbyholes around the interior, plus a deep glovebox and extra storage under the boot floor.