Convertible Nissan Leaf Open Air uncovered
To celebrate 100,000 sales in Japan, Nissan has created the one-off convertible Leaf Open Air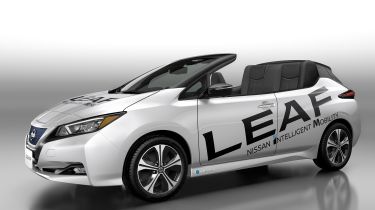 Nissan has celebrated 100,000 sales of the Leaf in Japan, by creating a one off convertible version, called the Leaf Open Car. It was unveiled in front of forum of 100 people in Tokyo, but there are no plans to put the convertible into production.
The Leaf was first launched in 2010 and is now in its second generation; over 300,000 examples have been sold worldwide since production started. The Leaf is a key part in Nissan's plan for an electric future with the aim of selling one million EV's annually by 2022. Nissan's luxury sub-brand Infiniti will also start adding electric vehicles to their line up in 2021.
Eight all new electric models have been promised by Nissan over the next five years, with four just for the Chinese market. One of those will be a new crossover SUV built on the same electric platform as the Leaf. Its design will be inspired by the IMx concept although it will be watered down slightly by the time it reaches production in 2020.
The new crossover SUV will use the Leaf's lithium-ion battery but will be reengineered to give a range of up to 370 miles. It could use two electric motors, one on each axis, to offer four-wheel drive.
Would you buy a convertible Nissan Leaf if it ever went on sale?