'Charging points must keep up with EVs' popularity'
With up to a million electric cars due to hit Britain's roads by 2020, can our charging infrastructure keep up?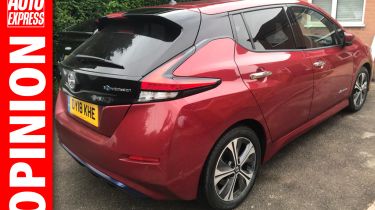 This week I've been lucky enough to take delivery of a new Nissan Leaf. And as it's built in the North East, I felt it only right to head up to Nissan's factory in Sunderland to get my new car.
Given the new Leaf's claimed range of 235 miles, I hoped I'd be able to do the 273-mile trip back south to my home with just one stop for charging. You can find out whether I managed it in a few weeks.
• The best electric cars on sale in 2018
With an electric car now on my driveway, I was interested to see a prediction from data specialist Emu Analytics that there'll be an 83 per cent shortfall in EV charging points by 2020. Its report claimed we'll need 83,500 points – up from today's 16,500 – to serve an estimated one million EVs on the road.
So should we be worried? David Martell, boss of Chargemaster, which runs POLAR – the UK's largest charging network – thinks not. "Car buyers can rest assured that the charging infrastructure to support electric cars will keep pace with the market, as we will deploy thousands of home, workplace and public charging points over the coming years," he said.
"It's inaccurate to suggest we have a nationwide shortfall today, but of course more charge points will be needed in the future. We expect to be operating around 50,000 public charging points by 2022, out of a total of 100,000 across the UK, likely to rise to over 500,000 by 2030."
What I know from my time running a Tesla last year is that EV owners have to develop their own strategy towards charging. With the Leaf, I'm hoping to charge my car at home once a week and that should be enough for my 44-mile round-trip commute, Monday to Friday. Good job, as the charging points in our central London car park are usually all busy. Let's hope that's not the sign of things to come.
Would an electric car suit your needs? Read our guide to living with an EV…