Nissan Leaf prices trimmed to suit new plug-in car grant
Nissan has dropped the Leaf's prices by as much as £5,265, allowing buyers to reap the benefits of the government's new plug-in car grant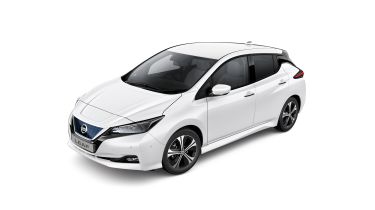 Nissan has lowered the prices of its pure-electric Leaf hatchback to allow buyers to take advantage of the government's recently revised plug-in car grant.
The restructure restricted the grant to vehicles worth less than £35,000 and capped the government subsidy at £2,500, so Nissan has adjusted its prices to ensure that every model in the Leaf line-up now qualifies for the incentive.
Prices for the cheapest Nissan Leaf Acenta start from £25,995 including the government grant, which represents a saving of £1,350. There's no change to the level of standard equipment, either, with buyers getting 16-inch alloy wheels, climate control, a seven-inch digital gauge cluster and an eight-inch infotainment system.
The mid-spec N-Connecta, 10 Special Version and Tekna Leaf models have also been adjusted, with customers now saving around £650 on each model; Nissan has lowered their starting prices to £27,995, £28,670 and £29,995 respectively, including the plug-in car grant.
All four of these variants feature Nissan's entry-level electric powertrain, which comprises a 148bhp electric motor and a 40kWh battery pack, for a maximum claimed range of 168 miles. The system offers support for 50kW DC rapid charging, which can top up the Leaf's battery to 80 percent capacity in around 60 minutes.
The bigger battery Leaf e+ in N-Connecta and Tekna specifications was most affected by the grant, as both variants fell outside the £35,000 cap. To remedy this, Nissan has lowered the price of the former by £5,250, to £30,445, and the latter by £5,265, down to £32,445. Both of those figures include the government's £2,500 discount.
In e+ form the Leaf is powered by Nissan's more potent 214bhp electric motor and a 62kWh battery pack, which offers a maximum claimed range of 239 miles. The system provides a 0-62mph time of 6.9 seconds and, when connected to a 50kW DC rapid charger, the battery can take on an 80 per cent charge in around 90 minutes.
Now read all the latest news of the pure-electric Nissan Ariya SUV here…