Nissan reveals new range-extender hybrid system
New e-Power hybrid drivetrain is set for Note in Japan, but could come to the Nissan Micra in Europe
Nissan has revealed details on a new hybrid powertrain called e-Power, which is based on the electric tech from the big-selling Nissan Leaf but with a petrol engine to help charge the batteries.
The images released by the brand indicate that the Nissan Note will be the first car to use the technology, but with that car set to be discontinued in Europe it is likely to be Japan-only. The e-Power drivetrain, then, will most likely appear in Europe for the first time in the new Nissan Micra supermini.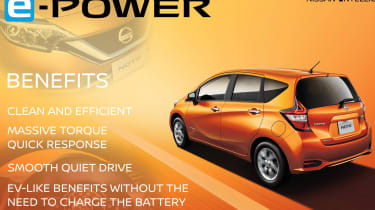 Nissan's new hybrid system uses electric motors to drive the wheels, with the on-board petrol engine only used to charge the batteries. Nissan says it's small and light, allowing the system to be used in more compact models - and that despite a smaller battery, its electric system operates similarly to the Leaf in the real world.
Fuel efficiency is said to be similar to 'leading conventional hybrids', which would indicate economy figures of around 70mpg (matching the Toyota Prius). There are no details yet on the size of the engine, although the pictures supplied by the brand show a conventional front-mounted engine in the Note, as opposed to the small motorcycle engine used in the BMW i3 range extender model.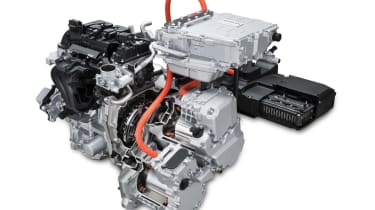 The e-Power drivetrain comes as part of Nissan's research and development into alternative fuels, including all-electric tech, hybrids and even a SOFC (Solid Oxide Fuel Cell) fuel-cell vehicle.
Now read our in-depth review of the Nissan Leaf electric car...