Nissan Note 2014 review
Has Nissan captured the spirit of the original Note with this all new model?
With buyers of small MPVs switching to crossovers, Nissan has tried to reposition the Note as a traditional Fiesta rival rather than a compact people carrier. But the Ford has a higher-quality feel and drives better. The Note is practical and provides loads of space in a relatively small car, but it's just not as good an all-rounder as the old Note, nor as cool as a Juke.
The original Nissan Note was a real all-rounder, with a spacious interior and a sharp drive. This new version with a 97bhp supercharged engine promises more of the same, but does it deliver?
Getting comfortable is tricky, as the steering wheel doesn't adjust for reach. And while the ride is soft, at higher speeds the Note becomes bouncy, and the tyres fidget over bumps in the road. The engine, meanwhile, is quite loud, but it performs well enough in town; the gearshift just isn't that precise.
On the plus side, Nissan has loaded the Note with tech. Blind-spot assist and lane departure warning systems sound good, but don't function that well. The former illuminates a light in the door mirrors when a vehicle pulls alongside, although it's too dim unless you're driving in the dark, while the latter only beeps when you're well into the next lane.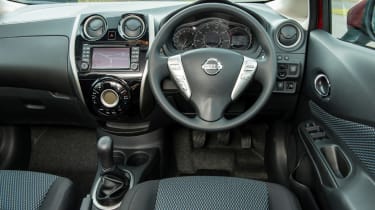 The stop-start system is frustrating, too. When fully pressed down, the pedals slot into a recess in the bulkhead – if you've got big feet, the clutch won't go down far enough to restart the engine.
While the drive disappoints, the Note still majors on practicality. There's lots of space up front, while rear seat legroom is good, and the boot huge. It's a shame this car doesn't have the all-round appeal of the old Note. But with many buyers swapping small MPVs for SUVs, at least Nissan has the Juke ready and waiting.