'Small cars will remain best-sellers for years to come'
With the ever-changing automotive landscape, Mike Rutherford still believes that the humble small car will have a powerful place in the car market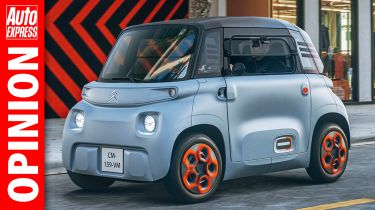 Worried by recent tales of sensibly priced small cars being killed off? No need. These are the only factory-fresh vehicles many consumers can afford; therefore they're here to stay.
True, such humble city cars are becoming pricier to build in this brave new world, where eco-mental regulations are increasingly demanding. But manufacturers know these are the products that allow motorists a foot on the new car-buying ladder. The small, four or five-seat car is to brands what the one-bed or studio flat is to the house-building industry.
Of the 10 best-selling cars in Britain last year, half – including the number-one-selling Fiesta – were small (less than 4.2m long), Society of Motor Manufacturers and Traders data reveals. The remaining 50 per cent sat in small-medium territory. No medium-large or large-colossal cars made it into that top 10. This proves that when it comes to real-world buyers living in the UK and financially able to sign on the dotted line for new cars, small is beautiful and affordable, whereas big is ugly, at least in terms of price and attainability.
In Europe as a whole, the appetite for small cars is even greater. Figures from JATO Dynamics reveal the overwhelming majority of the top-20 vehicles bought across 27 European countries in 2019 were those small models, which so obviously hit the spot. They are also mostly ordered in 100-per-cent petrol guise, so if you're looking for the most popular new car in our corner of the globe, look no further than the supermini that runs on unleaded.
Some makers have hinted lately that some of their small, inexpensive models could be withdrawn due to the imposition of increasingly tough environmental regulations that make them costlier to build. But worry not; Volkswagen, for example, will not say you can't have an up! at £10,000, but must instead go for the 'cheapest' Golf at £25,000. And when the now massive Peugeot empire hints that those environmental demands mean it may not replace its little 108, I reckon it's more a case of the French giant lately acquiring so many brands packed with small cars – Vauxhall and Fiat among them – that the 108 has, in effect, been superseded by more desirable incumbents. These include the new Corsa, hybrid versions of the 500 and Panda, never mind the brilliant, just-launched Peugeot 208, which is merely four-metres long but feels and drives like a far larger car.
Undoubtedly there are big changes ahead in the city-car sector. But within the class, temptingly priced 100-per-cent petrol versions will continue to prevail, sales of sensibly priced 'halfway house' petrol-electric hybrids will surge, and comparatively expensive pure-electrics will play an obvious and important role, too.
But regardless of their power units, such small cars will remain the best-sellers on the market for years to come. In the near to mid-term future, at least, if you're looking for the ultimate in automotive value for money, look no further than a state-of-the-art city car measuring four metres, or maybe just a tad longer.
Do you agree with Mike? Let us know your thoughts in the comment section below...