'Cars should be the stars, but for a few days the industry became all about the people'
Mike Rutherford looks back at late July 2020 when the global automotive managerial merry-go-round went into overdrive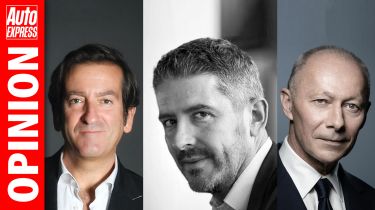 In this game, it's usually the cars that are the undisputed stars. And that's the way it should be.
But in the final days of July, the global motor business was more about the people than the metal. I've never known a week like it for dramatic developments in motor manufacturer boardrooms, design studios and motor-show HQs.
The biggest shock was Natarajan Chandrasekaran (of Jaguar Land Rover's parent company, Tata) naming Frenchman Thierry Bolloré as successor to Germany's Ralf Speth as CEO at JLR of England.
Adding to the shock value of Bolloré bouncing into the hot seat at JLR is the fact some 'experts' predicted that Denmark's Hanne Birgitte Breinbjerg Sorensen would land the job. Her loss is his obvious gain, and we have to believe he's got what it takes to get JLR through these tortuous times. Until 10 months ago, he was CEO at Renault, and can therefore be largely thanked for the Clio and Zoe being the biggest-selling ICE and electric cars in Europe this summer.
Bolloré's first task at JLR? Make the company and jobs safe. For me, the next priority is to cut starting prices for the Slovakian-built Defender to nearer £30k for a stripped-out, bog-standard version. Task three? A small Landy, plus a baby Jag for the masses.
Meanwhile, over in Paris, as Renault wept over record losses of £6 billion-plus for the first six months of 2020, Alejandro Mesonero-Romanos, SEAT's Design Director for the last decade, defected to the French firm. Then two days later, Gilles Vidal, Peugeot's design director for the past decade, also jumped ship to, er, Renault. Both report to Laurens van den Acker, ex-Audi. Looks to me like there are now way too many highly paid, big-name designers at loss-making Renault. But maybe, just maybe, Vidal will play safe and focus on day-to-day Renault-badged products, while Mesonero-Romanos (co-launcher of SEAT's newish sister Cupra marque) sets up a sub- brand, or develops an existing one that his new employer already has links with.
Think Samsung. And yes, I am serious. Thus far it's only dabbled in automotive as it designs and builds world-class TVs, phones and hundreds of other products. And guess where Mesonero-Romanos used to work before he joined SEAT? In South Korea, for the fledgling car division of Samsung, which has a massively under-utilised tie-up with Renault. Patient Samsung is now perfectly placed to become the Tesla of Asia – a prospect that must worry Elon Musk. Not that anyone need pity him, already worth $70bn-plus (£53bn), but still with the right to regularly pick up $2bn (£1.5bn) payments for his work at what is, on paper, the world's most valuable car company. For now!
Back down to earth, motorists lately starved of UK car exhibitions should thank two entrepreneurial Brits – Alec Mumford, owner and organiser of the London Motor Show, and Andy Entwistle, who runs the British Motor Show. If the UK is pandemic-free, both events will be back for 2021, they confirmed last week. London's Battersea Park and the Farnborough International Exhibition Centre will stage the shows. What's not to like?
What's your view on the changes at the top of the global car industry? Join the debate on Twitter or Facebook and check out some ore Opinion columns on the links below...