"Car clubs provide friendship, expertise and enthusiasm"
After spending time with the Fiat 500 Club, editor-in-chief Steve Fowler hopes car clubs continue to thrive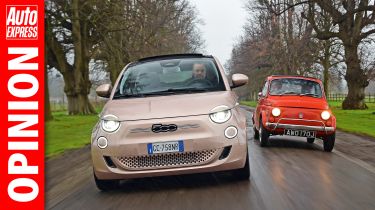 This week I had the pleasure of meeting up with TV's Mr Motorsport, Steve Rider. But as much as you can't avoid talking about touring cars, rallying or Formula One with Steve, this time he was wearing a different hat –and one that he wears with pride – as President of the Fiat 500 Club.
Steve and club secretary Paul Anderson gave up their time to come and explore the new Fiat 500, and brought their own 500s along. As with pretty much every other car in the UK – old and, surprisingly, new – there's a thriving community among Fiat 500 owners with an astounding amount of knowledge and expertise. Plus friendship.
Paul told me how club members would tour Europe together in their 500s – a bold move perhaps – but with one car loaded up with spares to help anyone whose old 500 may suffer a problem en route.
These car communities are thriving, with Facebook pages dedicated to the narrowest of niches, where like-minded folk swap tips and advice, buy and sell cars and parts, and generally share the love they have for their cars. And I absolutely love it!
I myself have a penchant for Audi A2s, with a couple now on my driveway. And yes, there's a thriving owners' club, with its own forum and Facebook pages. And I can guarantee that there's absolutely nothing these guys don't know about the car, and aren't willing to share.
Online communities have given life to these clubs and have become especially important as the usual summer meets have been curtailed this year. The chats I get involved in (including for cars that are on my 'to buy' list) are fun, friendly and informative.
Club magazines are still a thing and, in the case of Fiat 500 News, really good. So whichever car you own or are dreaming of, get online and a quick search will reveal plenty of people willing to chat. And as soon as we're able to get out and about freely, the meets will start up again. I can't wait.
Are you a member of a car club? Let us know about your experiences below...