'High Insurance premiums are forcing owners to scrap their cars'
Mike Rutherford is stunned that car insurance premiums have risen by an average 61 per cent in the past 12 months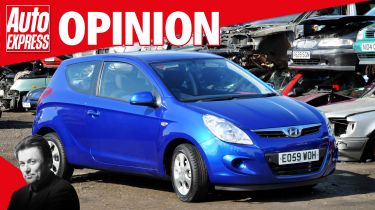 The insurance industry urgently needs to take out a new policy – against itself. The reason? Just as the Volkswagen Group and a few other offending car manufacturers lost customers (some of them forever) who were cheated when purchasing diesel vehicles, a growing number of heinously greedy insurers are now losing motorists unable or unwilling to pay the absurdly high prices they're being charged for their motor policies in 2023.
No doubt about it: countless drivers are now saying of the great insurance rip-off, enough is enough. But it's not what they say, it's what they do that matters.
Some are being forced to scrap cars on the grounds that the cost to insure them per year is not far off the value of the actual vehicles. And that's madness.
Other motorists are slapping Statutory Off Road Notification (SORN) restrictions on their much-loved cars, locking them away uninsured in secure, private, alarmed garages and perhaps hoping to wheel them out again when the UK's £20billion-per-year insurance business is forced by politicians or market forces (or both) to charge more reasonable prices.
Those who I consider to be the smartest real-world motorists are downgrading to more modestly priced and powered cars that sit in lower insurance groups.
Sadly, others are having to admit their motoring days are over because they can no longer pay the prices charged by insurers. How is that 'progress'?
Another worrying by-product of the situation is the small but scary band of can't-pay/won't-pay drivers taking the illegal route of driving on public roads uninsured.
The above examples and other factors prove we're in a rotten, car insurance industry-inspired mess. It's motivated by sheer greed and designed to squeeze consumers until the pips squeak. Textbook stuff: an insurance sector pricing motorists out of the market and therefore reducing the size of its customer base. Firms are allowing once-loyal, lucrative clients to walk away and possibly never return. How dumb is that?
And how ironic that the unfit-for-purpose insurance industry now needs to seriously consider insuring itself – against the inevitable loss of countless customers, a reduction in the number of policies sold and, in turn, possible lost profits of millions of pounds.
Think I'm exaggerating? In a period of just 12 inflation-shattering months, quoted motor insurance premiums have risen by an average 61 per cent, with drivers in London paying 69.5 per cent more, those in the West Midlands suffering a 64.4 per cent hike, and South Easterners enduring a 64.2 per cent leap. At the same time wage rises – for the lucky ones that got them – were nearer six per cent! You do the maths.
Meanwhile, one of Britain's best-known and most-respected national broadsheets reports that some Range Rovers have become "virtually impossible" to insure in certain parts of London. The paper reckons a typical 35-year-old female resident with six years' driving experience is now being asked to pay £22,515 for annual cover. Worst value for money in modern motoring history? Probably.
Is car insurance too expensive? Let us know your thoughts in the comments section....