Deal of the day: Ora Funky Cat family-sized EV for less than £190 per month
Get past the name and the GWM Ora Funky Cat can offer a great, affordable way into an EV – especially at less than £190 per month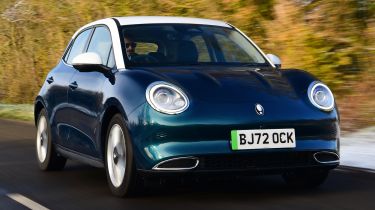 GWM Ora Funky Cat First Edition for £185.39 per month
5,000-mile mileage limit
£2,266 in deposits and fees  
One of the biggest barriers to people considering a switch to a pure-electric car is the fact that they're generally more expensive on list price. There's serious money in a lithium-ion battery, so manufacturers have struggled to make EVs match the prices of similarly sized cars powered by combustion engines. But right now one of the latest entries on the market, the catchily named GWM Ora Funky Cat, is available at leasing.com for less than many petrol superminis.
Offered on a two-year deal, with a limit of 5,000 miles per year, this Funky Cat has a 169bhp front-mounted motor delivering a 0-62mph time of 8.3 seconds and a 48kWh battery that can take the car just under 200 miles between recharges. The driving dynamics aren't particularly involving, but it's nippy enough around town, there's room on board for four adults and the Funky Cat was one of the first Chinese models to crack a five-star Euro NCAP safety rating.
The model on offer is the First Edition, which comes with oodles of kit; there's a 10.25-inch digital instrument panel, a 12.5-inch touchscreen infotainment set-up, air-con, auto wipers, LED headlights and tail-lights, rear parking sensors and 18-inch alloys that build on the Funky Cat's slightly oddball 'future retro' looks.
As always with a contract-hire lease deal, you'll never own this car and you'll need to walk away in two years and find a fresh deposit for its replacement. But even then, this is a vastly cheaper deal than you'll find on regular PCP finance. Matching GWM Ora's terms on that arrangement (two years, 8k miles per year), the PCH lease comes out at £203.99 per month, whereas even with zero-per cent interest, the current PCP package requires a much higher deposit (£8,565) and still costs £228.50 per month. Should you want to buy the car at the end of that two-year PCP, incidentally, the optional final payment is £17,946.
As always, this is a great deal on a new car that we've chosen independently and are happy to recommend. Terms and conditions will always apply, and deals are subject to availability and prices can always change.
Get the Ora Funky Cat Deal of the Day, or take a look at yesterday's top deal here…