Peugeot to launch refreshed Motion & e-Motion electrified car branding at Geneva
Peugeot will unveil its new brand signature at this year's Geneva Motor Show, to complement its shift towards electrification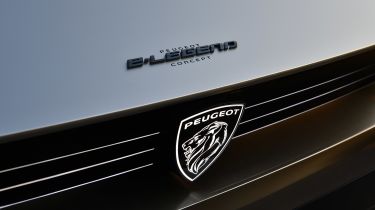 Peugeot has announced its new brand signature for 2019, due to be unveiled publically at this year's Geneva Motor Show. The redesigned branding signals the firm's shift towards electrification and is set make an appearance on a new Peugeot model this year.
The updated branding is adapted from Peugeot's current "Motion & Emotion" tagline, which will henceforth read "Motion & e-Motion" acknowledging the company's plan to electrify its entire range by 2023.
• Peugeot e-Legend concept could be built after 2020
The new tagline will be accompanied by a redesigned version of the company's Lion emblem, with crystal-like green and blue light effects.
Peugeot's new badge and updated "Motion & e-Motion" tagline was first used on the firm's e-LEGEND concept from the 2018 Paris Motor Show. In the near future, it will also be applied to the PHEV versions of the company's 3008, 508 Fastback and 508 SW models.
David Peel, Managing Director of Peugeot UK said: "The Motion & e-Motion signature we are rolling out really encapsulates our vision for what we want the brand to stand for.
"Adapting the signature we have been using for almost a decade demonstrates how we are a brand that is sticking to principle qualities Peugeot is known for, while evolving to fit with an electric future."
Click here for all the latest in the build-up to the 2019 Geneva Motor Show...