Peugeot 2008 prices
The all-new Peugeot 2008 crossover is now available to order, with a starting price of £12,995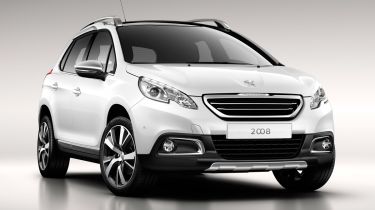 The Peugeot 2008 is now available to order, priced from £12,995. The Renault Captur rival will begin arriving in Peugeot dealers from 18 July, and will be sold in a choice of four equipment levels – Access+, Active, Allure and Feline.
The 2008 Access+ is the entry-level model, and includes features like LED daytime running lights, electric front windows, cruise control and manual air conditioning.
Active models start at £13,895 and add 16-inch alloys, a leather-wrapped steering wheel, a touchscreen infotainment system, DAB radio and Bluetooth.
Prices for the 2008 Allure model start from £14,995 and include directional front fog lights, auto lights and wipers, front and rear electric windows, automatic air conditioning and a rear parking aid.
Top-spec Feline models get a Cielo panoramic roof, 17-inch alloys and sat-nav. The Feline can also be specced in one of two different interior ambiences – the alcantara/leather effect Calima ambience starts at £17,450, while the black leather upholstery of the Mistral ambience costs from £17,650.
Allure and Feline cars also get Peugeot's Grip Control traction control system, which helps make the most of available grip.
There are six engines to choose from. The two petrols are 82bhp 1.2-litre and 120bhp 1.6-litre units. There's a 70bhp 1.4-litre diesel and three versions of the 1.6-litre diesel – the cleanest of which returns a claimed average of 74.3mpg and emits 98g/km of CO2.
The full Peugeot 2008 price list is as follows:
| | | | | | | | |
| --- | --- | --- | --- | --- | --- | --- | --- |
| Trim | Engine | BHP | 0-62mph | Top speed | MPG | CO2 | Price |
| Access+ | 1.2 VTi | 82 | 13.5 | 105 | 57.6 | 114 | £12,995 |
| Access+ | 1.4 HDi | 70 | 14.9 | 99 | 70.6 | 104 | £14,295 |
| Active | 1.2 VTi | 82 | 13.5 | 105 | 57.6 | 114 | £13,895 |
| Active | 1.6 VTi | 120 | 9.5 | 122 | 47.9 | 135 | £14,850 |
| Active | 1.4 HDi | 70 | 14.9 | 99 | 70.6 | 104 | £15,195 |
| Active | 1.6 e-HDi | 92 | 12.8 | 113 | 70.6 | 103 | £15,845 |
| Active | 1.6 e-HDi EGC | 92 | 13.3 | 112 | 74.3 | 98 | £16,445 |
| Allure | 1.2 VTi | 82 | 13.5 | 105 | 57.6 | 114 | £14,995 |
| Allure | 1.6 VTi | 120 | 9.5 | 122 | 47.9 | 135 | £16,150 |
| Allure | 1.6 e-HDi | 92 | 12.8 | 113 | 70.6 | 103 | £17,145 |
| Allure | 1.6 e-HDi EGC | 92 | 13.3 | 112 | 74.3 | 98 | £17,545 |
| Allure | 1.6 e-HDi | 115 | 10.4 | 117 | 70.6 | 106 | £17,695 |
| Feline - Calima | 1.6 VTi | 120 | 9.5 | 122 | 47.9 | 135 | £17,450 |
| Feline - Calima | 1.6 e-HDi | 92 | 12.8 | 113 | 70.6 | 103 | £18,445 |
| Feline - Calima | 1.6 e-HDi | 115 | 10.4 | 117 | 70.6 | 106 | £18,995 |
| Feline - Mistral | 1.6 VTi | 120 | 9.5 | 122 | 47.9 | 135 | £17,650 |
| Feline - Mistral | 1.6 e-HDi | 92 | 13.3 | 112 | 74.3 | 103 | £18,645 |
| Feline - Mistral | 1.6 e-HDi | 115 | 10.4 | 117 | 70.6 | 106 | £19,195 |