Peugeot 2008 vs rivals
We pit the new Peugeot 2008 against two class trailblazers, the Skoda Yeti and MINI Countryman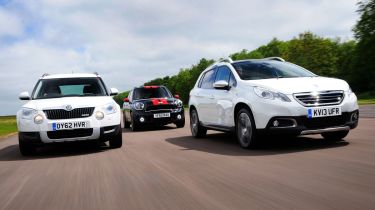 Compact crossovers are all the rage, but it's taken Peugeot a while to join the party. Only now has the all-new 2008 arrived in the UK.
It's based on the capable 208 supermini, gets fashionable SUV-inspired looks and promises to blend family hatch cabin space with MPV versatility. Prices start at £12,995, and we test the £18,995 top-spec Feline model, which has a punchy 115bhp 1.6-litre diesel and low 105g/km emissions.
Squaring up to the 2008 are two of the toughest rivals in the class. First up is the Skoda Yeti – our Car of the Year in 2010 – which delivers rugged looks, a roomy interior and a brilliant driving experience. Better still, our GreenLine test car claims low emissions and excellent fuel economy.
It's joined by the MINI Countryman, which scores with a great image. The cabin is short on kit and doesn't offer loads of space, but is packed with practical touches, while the 1.6-litre diesel is cheap to run. So, has the fashionably late Peugeot model hit the target or missed the boat?
Verdict
Despite arriving late to the compact crossover party, Peugeot has made a really strong first impression with its strikingly styled 2008.
The newcomer stands out from the crowd, is good to drive and, in top-spec Feline trim, comes brimming with kit as standard. Better still, its cabin is roomy and slickly designed – and as a result, the 2008 beats the MINI.
The Countryman has an upmarket image, excellent build quality and exceptionally low running costs, but it's hard to ignore the high price and miserly equipment. It also has the smallest boot and suffers from a firm ride.
So has the 2008 done enough to topple the Yeti? Not quite. Even after three years, the Skoda still sets the standard in this class, thanks to its brilliant driving experience, robust build quality and hugely versatile interior. It's also well equipped and very cost-effective to run.