Peugeot 208 vs DS3
The turbocharged Peugeot 208 hints at the potential of next year's 208 GTi. We test it against our current top warm hatch, the Citroen DS3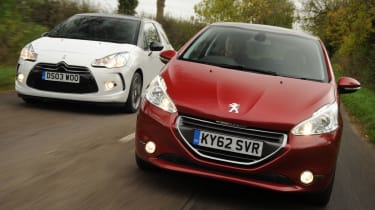 The French have long had a flair for fast hatchbacks, with Citroen and Peugeot masters of the art. The upmarket Citroen DS3 has been a long-time favourite of ours, while the Peugeot name has been synonymous with hot hatches for decades. So will hot versions of the smart new 208 supermini still put a smile on our faces?
The standard 208 saw off the talented Ford Fiesta and Kia Rio in our previous test, thanks to its clean petrol engine and modern cabin. So can it pull off the same trick again?
It's been fitted with the same BMW-sourced 1.6-litre engine as the Citroen DS3 and, like its rival, is only available as a stylish three-door. Trim is the high-spec Feline.
The DS3 continues to be a hit for Citroen, which has gone hand-in-hand with its recent domination of the World Rally Championship. This DSport model remains our pick of the range, and we prefer it to warm hatches from SEAT and even MINI – so the 208 faces a stern test.
Verdict
As they start with such similar mechanical ingredients, we were expecting these cars to be tough to separate. However, in the end, the 208 fell some way short of overhauling its extrovert cousin.
Peugeot must have been expecting some of the DS3's magic to rub off on its stylish new supermini, but despite very similar performance figures at the track, the sharper Citroen felt a more natural hot hatch on the road. While we loved the zippy character and admirable efficiency of the 1.2-litre three-cylinder 208 that scooped our Supermini of the Year title, the light, over-assisted steering robs you of the confidence to drive this quicker model with intent.
The crisp and modern interior is good value when compared with less premium competition, but at this price the quality is simply not up to the same standard as similar rivals from MINI and Audi.
The DS3 has a similar problem with materials, but features a more traditional, easier-to-use layout, and the conventional dials and large steering wheel work better than the Peugeot's miniaturised versions.
Neither car is perfect, but faced with a choice we'd pick the DS3 over the 208 every time. It feels like it was designed for keen drivers from the start, where too often the Peugeot resorts to style over substance. Fingers crossed the GTi will turn that around.