Peugeot 208 vs Renault Clio
We recently named the new Renault Clio as the best supermini you can buy, but can the new Peugeot 208 steal its crown?
Over the past few months a flurry of new superminis has hit the market, with new versions of cars that are massively important to UK buyers, such as the Renault Clio and Vauxhall Corsa, going on sale. The latest to arrive is the Peugeot 208.
An all-new platform and vastly different styling to its predecessor mean the 208 is angling for top honours, but to take them it'll have to beat our current class favourite: the Renault Clio.
It has seen off the challenge from the Ford Fiesta, SEAT Ibiza, Vauxhall Corsa and Volkswagen Polo in quick succession already, so we know it has what it takes in a tightly fought supermini market.
It also has price on its side compared with the Peugeot, which costs more than the Clio here. But is the 208 better value? That's what we're aiming to find out in this test by putting both cars through our full road test.
The winner will have to impress in every area, though, so comfort and refinement, decent driving dynamics, strong efficiency and plenty of technology will all have to be present in the supermini that succeeds here, and the pace of progress in this sector means with every new car that arrives these qualities are moving on rapidly.
Peugeot 208
| | |
| --- | --- |
| Model: | Peugeot 208 1.2 PureTech 100 Allure |
| Price: | £18,850 |
| Engine: | 1.2-litre 3cyl turbo, 100bhp |
| 0-60mph: | 9.8 seconds |
| Test economy: | 43.4mpg/9.5mpl |
| CO2: | 97g/km |
| Annual road tax: | £145 |
Peugeot is pinning its hopes on its all-new 208 supermini stealing sales off rivals in one of the tightest sectors of the new car market, so it has its work cut out. One of those is the new Renault Clio, so we're testing Peugeot's 208 in 1.2 PureTech Allure trim (£18,850) to see whether it can succeed.
Design & engineering
It's the Peugeot's styling that really catches your eye first. While there's plenty of clever new tech underpinning this supermini, it's the angular lines, solid surfaces and tusk-like LED running lights that set the 208's style.
It looks every inch the modern supermini, while there's technology to back it up underneath. That's because the 208 is based on Peugeot's CMP platform, something it shares with the new Vauxhall Corsa following Peugeot/Citroen's buyout of Opel/Vauxhall. There are similar strengths and similar weaknesses, as we'll see, while it also shares engine tech.
The 1.2-litre three-cylinder turbo PureTech 100 unit has a little more capacity compared with the Clio's, so it's no surprise it makes more torque, at 205Nm compared with the 160Nm Renault.
There's 100bhp on tap, too, while the 1,090kg Peugeot is 88kg lighter than the Renault, so it should have the measure of the Clio for performance.
But superminis are about so much more than straight-line ability. They have to offer practicality, low running costs and decent equipment, too. We'll come to the two former points shortly, but where kit is concerned the Peugeot gives best to the Renault. Not only is it £2,355 more expensive, but it also lacks sat-nav (£650) and LED lights (£800). The Clio gets these.
At least Allure trim gets climate and cruise control as standard, plus autonomous braking, lane-keep assist, wireless charging, Apple CarPlay and Android Auto, giving you nav through your connected device.
The Peugeot's interior design is modern, but the materials aren't quite as nice as those in the Clio, even if the design feels a bit fresher. The i-cockpit set-up is still rather problematic, too.
Driving
The extra torque from the 208's engine is very noticeable on the move. Against the watch it showed in our in-gear acceleration tests, where the Peugeot took 11.5 seconds to go from 50 to 70mph in top gear; the Clio needed 15.7 seconds. While the 208 has an extra ratio to further improve the motor's flexibility, there's no denying it's the punchier, feistier unit. The Renault's performance is adequate, the 208's more impressive.
The 0-60mph sprint proves this, at 9.8 seconds compared with 11.2 seconds, while the engine is almost as refined. You hear a little more percussion from under the bonnet than in the Clio, but not much, and it's a small price to pay for the extra performance.
Yet performance is likely to matter less to most buyers, as long as it meets a minimum standard. Comfort could well be more important.
Both cars are evenly matched when it comes to the ride. The Peugeot's body control is just a little better and it feels slightly firmer, but the damping absorbs bumps well and it remains settled most of the time, delivering enough comfort on the motorway (but just shy of the Renault) as well as a little more handling agility on twistier roads.
Neither model's gearbox is brilliant, but the 208's shift action feels better than the transmission in other Peugeots we've tested, which is a positive.
Both cars are close from behind the wheel, then. The 208 shades it for performance and handling, while the Clio is just a little comfier.
Practicality
The CMP architecture clearly isn't as well packaged as the Clio's new platform, because the 208 feels more cramped in the rear; there's not as much legroom while access isn't as easy as in the Renault.
But it also loses out on boot space, because there's only 311 litres of luggage room in the Peugeot, compared with 391 litres in the Renault. This is a big gulf and a potential issue for those journeys where you might be carrying four people and their suitcases.
Parking sensors are included, which is handy because rearward visibility isn't the greatest, yet this is also a problem the Clio suffers with. But you can't add a reversing camera on Allure trim, which you can for £400 on the Clio Iconic.
Ownership
Somewhat surprisingly for a modern, all-new supermini, the Peugeot only scored four stars out of five in its Euro NCAP crash test. However, it does get autonomous emergency braking with pedestrian detection and lane-keep assist, but there's no extra safety tech available on the options list. You'll have to upgrade to GT Line spec to get the full suite of safety tech.
Ownership prospects are still respectable, though, because Peugeot finished 12th in our most recent Driver Power owner satisfaction survey last year. This was seven places ahead of Renault.
Running costs
The 208's price works against it when it comes to company car tax. Although it emits marginally less CO2 than the Clio, at 97g/km, both models sit in the same 23 per cent Benefit-in-Kind tax bracket. It means lower-rate earners will pay £109 more per year to run the 208, at £859 in company car tax.
If you're a private buyer it'll also hold on to less cash. Our experts predict the Peugeot will retain 38.7 per cent of its list price compared with 44 per cent for the Clio, which works out to depreciation of £11,549 and just £9,232 respectively. The Peugeot will therefore be worth £7,301 and the Renault £7,263.
Testers' notes: "Peugeot's designers are really on a roll. The 208 takes the slick styling we've seen on cars like the 508 and makes it work on a smaller car. This is one of the most striking superminis in a good-looking crowd."
Renault Clio
| | |
| --- | --- |
| Model: | Renault Clio Tce 100 Iconic |
| Price: | £16,495 |
| Engine: | 1.0-litre 3cyl turbo, 99bhp |
| 0-60mph: | 11.2 seconds |
| Test economy: | 44.0mpg/9.7mpl |
| CO2: | 99g/km |
| Annual road tax: | £145 |
Straight away, the Renault shows its value for money. In Iconic trim it gets more equipment than the Peugeot yet costs less, priced from £16,495 with the TCe 100 engine. The Renault has already notched up two road test wins in just a few months on sale, but it'll need to offer more than just value to rack up the hat-trick, so let's see if it has what it takes.
Design & engineering
Like the Peugeot, this new fifth-generation Clio is based on an all-new platform for the model, with Renault's supermini adopting the CMF-B architecture. It uses the same suspension design as the Peugeot and the Clio's predecessor, but the new platform has allowed its designers to manipulate the packaging so that the car's dimensions are actually smaller than the fourth-generation car's, yet there's more space inside.
At 1,178kg, the Clio is heavier than the 208, but not enough that the 1.0-litre three-cylinder turbocharged TCe 100 engine can't cope, as we'll see. It kicks out 99bhp and 160Nm of torque – this latter figure is some way down on the larger-engined 208's output – while the Renault is fitted with a five-speed manual gearbox compared with the six-speed unit in the Peugeot. We'll see if this makes much of a difference to performance and cruising refinement.
One area where the Renault does have the Peugeot beaten is kit. Despite costing £2,355 less, it gets sat-nav, CarPlay, Android Auto and connected services as part of its seven-inch touchscreen, which works well enough (see Infotainment on P42 for more details). It also features a good level of safety tech, parking sensors and LED headlights, while there's potential to add options, such as a reversing camera (£400), that are not available on the 208. However, on the Peugeot you can opt for more luxurious items that are unavailable on the Clio, such as heated leather seats as part of a £1,400 pack.
The Renault's interior might not look quite as slick or premium as the Peugeot's, but the Clio beats the 208 for quality because there are just a few places where the materials are softer and more tactile. But, the build quality is about equal in both cars.
First blood to the Renault, then, when it comes to cost, kit and quality, because they're all square when it comes to the engineering that underpins them. But do they feel any different on the road?
Driving
The answer is yes. The Clio feels like a larger, more mature car, thanks to its softer ride and relatively impressive refinement for an affordable supermini. Its TCe engine is quiet, unless you really rev it hard, and is a little less vocal than the Peugeot's 1.2-litre unit, but it doesn't have the legs to stay with its French rival.
It took 11.2 seconds to accelerate from 0-60mph, 11 seconds to go from 30 to 70mph through the gears and 15.7 seconds to go from 50 to 70mph in top gear (fifth). This compares with 9.8, 9.6 and 11.5 seconds respectively in the Peugeot; that latter figure (in sixth) showing how the 208 makes swifter and sometimes easier progress than the Clio.
Neither car has a particularly precise or involving gearchange and, although it's good, the 208's firmer set-up means it fidgets just a little more on the road, whether that's around patchwork urban streets, crowned country lanes and even smoother motorways. It's not by much, but the Clio feels softer, more forgiving, and more comfortable as a result.
There's more weight to the Renault's steering, although it's obviously the slightly less dynamic car, due to its focus on comfort. It doesn't change direction or handle with quite the same precision as the Peugeot, but it's not by much and it offers more in other areas as a trade-off.
Practicality
The work Renault's engineers put into the Clio's packaging really shows. Access to the rear seats is slightly easier than in the 208 and there's a little more room back there, too, particularly legroom. But it doesn't sacrifice boot space either, because there are an extra 80 litres with the back seats up, for a total of 391 litres.
That's more than the new Volkswagen Golf, so while it's not quite as roomy as some family cars in the rear, there's enough luggage room for four people's bags, meaning the Renault can operate as a family car more convincingly than the 208. The interior has enough storage, and the Clio pegs it here, because despite the Peugeot's extremely modern design, with a big central bin, cupholders, a tray in front of the gearlever and good-sized door bins, practicality is good.
Ownership
We've already seen Renault trailed Peugeot in our Driver Power 2019 satisfaction study, and the brand's dealers weren't as convincing as Peugeot's, either, with Renault's official network finishing 26th out of 31 manufacturers. Peugeot's garages took 16th spot.
Renault does offer three years' roadside assistance to Peugeot's 12 months, though, while servicing costs are good at £449 for three years' routine maintenance. The 208's servicing prices have yet to be finalised.
Safety technology is also strong, because the Clio matches the 208's tally, with autonomous braking and lane-keep assist as standard, but the Renault scored a full five-star result in Euro NCAP tests.
Running costs
Any supermini has to be efficient and these two downsized turbo hatches live up to that billing. The Renault returned 44mpg on test, which means you'll spend £1,587 per year in fuel. The Peugeot returned just a little less at 43.3mpg, which equates to a annual spend of £1,613 on petrol. There's very little between them.
Testers' notes: "Peugeot offers an all-electric e-208. Renault doesn't offer an electric Clio; it has its standalone Zoe model for that, and there's a new version now on sale. There is a mild-hybrid Clio, though."
Verdict
First place: Renault Clio
It's hard to look past the price difference here, whether you're buying with cash or finance. The Clio is cheaper by some margin, but you don't really lose out when it comes to kit. It's refined and comfortable, if not quite as fun to drive as the 208, but offers more practicality, affordable running costs, decent tech and just enough performance. It's still our top pick in the class.
Second place: Peugeot 208
The 208 runs the Clio closer than any car before it. Its interior is nice, with advanced infotainment, the engine is sweeter than the Renault's and offers more performance, and the car handles better. But the Peugeot looks pricey by comparison and isn't as practical. Its good points aren't quite enough to offset the deficiencies in these areas, but it's still a solid, more dynamic choice.
Other options in this category...
Ford Fiesta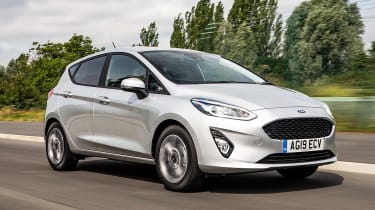 Model: Ford Fiesta 1.0 EcoBoost 95 Titanium 5drPrice: £18,34Engine: 1.0-litre 3cyl turbo, 94bhp
It might not be the most practical supermini on sale, but it is the best-driving model in this class. It's practical enough, but the Fiesta's blend of ride, handling and fun is unsurpassed if you're a keen driver. There's plenty of tech in Titanium trim, too.
SEAT Ibiza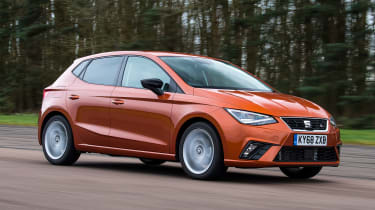 Model: SEAT Ibiza 1.0 TSI 95 XcellencePrice: £18,105Engine: 1.0-litre 3cyl turbo, 94bhp
The Ibiza is almost as practical as the Clio but better to drive than the 208. Plus the Peugeot's interior is much fresher and feels more upmarket, thanks to its clever use of tech. The Ibiza is good value, though, and gets lots of equipment as standard.
Figures
| | | |
| --- | --- | --- |
| | Renault Clio Tce 100 Iconic | Peugeot 208 1.2 PureTech 100 Allure |
| On the road price/total as tested | £16,495/£18,845 | £18,850/£20,195 |
| Residual value (after 3yrs/36,000) | £7,263/44.0% | £7,301/38.7% |
| Depreciation | £9,232 | £11,549 |
| Annual tax liability std./higher rate | £750/£1,501 | £859/£1,717 |
| Annual fuel cost (12k/20k miles) | £1,587/£2,645 | £1,613/£2,688 |
| Insurance group/quote/VED | 10/£355/£145 | TBC/£433/£145 |
| Cost of servicing | £449 (3 years) | To be confirmed |
| | | |
| Length/wheelbase | 4,050/2,583mm | 4,055/2,540mm |
| Height/width | 1,607/1,836mm | 1,430/1,745mm |
| Engine | 3cyl in-line/999cc | 3cyl in-line/1,199cc |
| Peak power/revs | 99/5,000 bhp/rpm | 100/5,500 bhp/rpm |
| Peak torque/revs | 160/2,750 Nm/rpm | 205/1,750 Nm/rpm |
| Transmission | 5-speed man/fwd | 6-speed man/fwd |
| Fuel tank capacity/spare wheel | 42 litres/£200 | 44 litres/space saver |
| Boot capacity (seats up/down) | 391/1,069 litres | 311/1,106 litres |
| Kerbweight/payload/towing weight | 1,178/513/900kg | 1,090/505/1,200kg |
| Turning circle | 10.4 metres | 11.2 metres |
| Basic warranty (miles)/recovery | 3 years (60,000)/3yrs | 3 years (60,000)/1year |
| Driver Power manufacturer/dealer pos. | 19th/26th | 12th/16th |
| NCAP: Adult/child/ped./assist/stars | 96/89/72/75/5 (2019) | 91/86/56/71/4 (2019) |
| | | |
| 0-60/30-70mph | 11.2/11.0 secs | 9.8/9.6 secs |
| 30-50mph in 3rd/4th | 5.3/8.7 secs | 4.2/5.5 secs |
| 50-70mph in 5th/6th | 15.7 secs/N/A | 8.3/11.5 secs |
| Top speed/rpm at 70mph | 116mph/2,500rpm | 117mph/2,400rpm |
| Braking 70-0/60-0/30-0mph | 50.5/37.0/9.4m | 47.2/34.7/8.7m |
| Auto Express econ. (mpg/mpl)/range | 44.0/9.7/407 miles | 43.3/9.5/419 miles |
| WLTP combined mpg | 54.3mpg | 46.6-53.0mpg |
| WLTP combined mpl | 11.9mpl | 10.3-11.7mpl |
| Actual/claimed CO2/tax bracket | 148/99g/km/23% | 151/97g/km/23% |
| | | |
| Airbags/Isofix/parking sensors/cam | Six/yes/yes/£400* | Six/yes/yes/no |
| Auto box/lane-keep/blind spot/AEB | £1,400/yes/no/yes | £1,400/yes/no/yes |
| Clim./cruise ctrl/leather/heated seats | £300*/yes/no/no | Y/y/£1,400*/£1,400* |
| Met paint/LEDs/keyless/pwr tailgate | £560/yes/no/no | £545/£800/no/no |
| Nav/digi dash/DAB/connected services | Yes/no/yes/yes | £650*/yes/yes/yes |
| Wireless charge/CarPlay/Android Auto | No/yes/yes | Yes/yes/yes |