Peugeot 508 facelift: full details and prices
The tweaked Peugeot 508 now features a new engine, updated design and the latest technology
The Ford Mondeo-rivalling Peugeot 508 has been updated to include new technology, a fresh design and a 2.0-litre 148bhp engine that emits just 105g/km. The diesel-electric HYbrid4 model is back, too, boasting 85.6mpg and 85g/km – both best-in-class figures.
The new design of the 508 is inspired by some of the most recent concepts from Peugeot, like the Exalt, which featured at the Beijing Motor Show earlier in 2014. That means a narrower grille, stretched right across the front end, where it meets a set of more compact headlights. There's a more horizontal bonnet on all models and a set of new taillights for the saloon.
As with the current Peugeot 508 range there's a Saloon, an SW estate version and a more rugged looking estate called 508 RXH. This last version is only available with the HYbrid4 powertrain.
The interior has been simplified so that many of the functions are now controlled through a centrally mounted seven-inch touchscreen. New options like blind spot sensors and a reversing camera are available, as are a range of Peugeot Connect apps providing info on things like free parking spaces, fuel prices and traffic.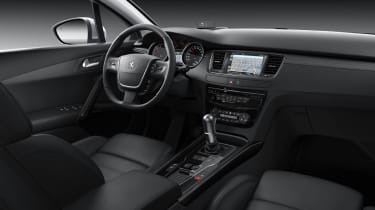 Underneath the bonnet, the big news is the introduction of the 150bhp 2.0-litre BlueHDi diesel, which boasts emissions of 105g/km. That's 10g/km less than the old 1.6-litre e-HDi engine, which only had 112bhp. It's still not quite the cleanest, though, with the Mazda 6 boasting a 148bhp 2.2-litre diesel with emissions of 104g/km.
There's also a 180bhp version of the 2.0 BlueHDi and a 165bhp 1.6-litre THP turbo. The latter unit now boasts emissions of 131g/km, compared with 144g/km in the old car. There's a new six-speed automatic gearbox, too.
Improvements to the HYbrid4 model have meant this four-wheel-drive diesel-electric version has now seen CO2 emissions cut from 95g/km to 85g/km.
Prices and specs
The facelifted Peugeot 508 is now on sale, starting from £22,054, and rising to £34,645 for the flagship RXH featuring HYbrid 4 powertrain. There are three trim levels for both the saloon and SW estate: Active, Allure and GT.
Entry-level Active costs £22,054 in saloon guise and £23,245 for the estate, and both get a choice of two engines – the 1.6-litre and 2.0-litre e-HDi diesels – with standard kit coming in the form of sat nav, dual zone air con, a seven-inch multi-function colour touchscreen and 18-inch alloys. There's a rear parking aid and folding door mirrors, too.
Opting for Allure (£24,895 – £28,595) brings a wider range of engines: the 1.6-litre e-HDi makes way in its automatic guise for the 2.0-litre BlueHDi, the 163bhp 2.0-litre HDi and Peugeot's diesel-electric HYbrid4 engine. It also gets a front parking aid to join Active trim's rear assist, plus keyless entry and Start/Stop button, an automatic electric parking brake with Hill Assist, and a reversing camera. SW variants get a panoramic glass roof, too.
GT meanwhile costs upwards of £30,645 (£32,045 for the estate) and is only available featuring the 2.2-litre HDi engine, paired to a six-speed auto gearbox. On top of Allure's standard kit, this gets a colour head-up display, 19-inch alloys and nappa leather.
At the top of the range is the RXH, the SW-based rugged estate, which starts at £30,295 and can be had with the 2.0-litre BlueHDi and six-speed auto or the HYbrid 4. It gets all the GT level kit, plus LED headlights and fog lights, as well as half-leather trim, electrically adjustable seats and a panoramic glass roof.
Want to know if the Peugeot 508 facelift has been worth the wait? You can check out our latest review here.