Peugeot 508 2014 review
Peugeot's 508 has been on the receiving end of a facelift that boosts its styling and fuel efficiency. Here's the verdict...
Big Peugeots have never sold well in the UK and the updated 508 certainly won't be changing that. It's stylish and well kitted out but next to rivals such as the Mazda6 and Ford Mondeo, there's little reason to recommend the French saloon. It's not particularly good value or engaging to drive, but the diesel-electric 508 HYbrid4 will continue to be offered, which could be enough of a unique selling point to prick people's interest.
The company car park is a fiercely competitive playground. Efficiency may be the key factor but a premium design, upmarket feel and value for money are becoming increasingly significant factors for fleet buyers, so does the refreshed Peugeot 508 make the cut?
It's a strong start, with the large saloon gaining an extra 38mm in length, a bold front grille, redesigned bumpers and sleek LED daytime running lights. Exterior changes may be small but they have helped the 508 project more of the classy image which was sorely missed from the outgoing model.
And the good new continues, with the 508 now available powered by a range of new punchy but frugal engines. The new additions are both versions of the 2.0-litre BlueHDi diesel unit with 150bhp and 180bhp outputs on offer. It's the lesser-powered model we're sampling first, which comes mated to a six-speed manual gearbox as standard.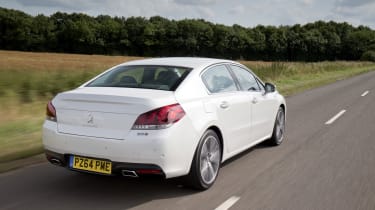 Economy stands at 67.3mpg with CO2 emissions of only 109g/km – opt for the estate version and emissions climb to 110g/km. The 508 may not creep under the magic 100g/km barrier but road tax at only £20 per year is good going for a car of this size. And with around 65 per cent of purchases expected to be fleet sales, those figures will certainly catch the eye of company car drivers.
Yet, while the 508 is certainly a looker and on paper is one of the most efficient cars in its class, behind the wheel it's remarkably unremarkable. Performance from the 150bhp 2.0-litre engine is adequate but with 370Nm of torque available, it should feel stronger than it actually is. If you want more pace, the older 2.2-litre engine is still available and feels more eager. It also comes with a more sophisticated suspension setup.
The 508's handling is vague, so it won't trouble the Ford Mondeo and it feels like a big car from the driver's seat, so placing it on narrower roads often results in sweaty palms. Having said that, it does ride particularly well, remaining cushioned over rougher ground.
As the 508 has only been subjected to a minor facelift, Peugeot hasn't bothered fitted the minimalist iCockpit from the smaller 308 and 208 hatchbacks. The cabin has been tidied up somewhat but you're still swamped by buttons and dials, despite gaining a seven-inch touchscreen system. There are more buttons on the steering wheel than you'll find in the entire cabin of the 308 hatch.
While the interior may be busy, it is spacious, well kitted out and well put together. Standard features include DAB radio, dual zone air-con, 18-inch alloys, sat nav and seven-inch touchscreen. Our test car in Allure spec added keyless go, reversing camera and hill hold assist.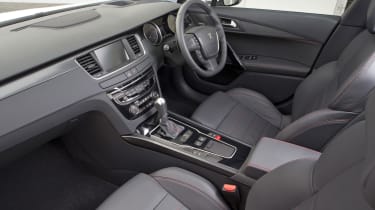 The 473-litre boot is a good size but the Mazda6 and Ford Mondeo do offer more. The 508 is certainly more than a match for these rivals when it comes to interior passenger space, though. A shallow transmission tunnel and wide rear bench help the car accommodate three adults in the back with no shortage of head or knee room.
While the refreshed 508 may not be trouble the class leaders, it's certainly an improvement. But even the French manufacturer is playing down its own chances of the new saloon being a hit second time around in the UK. If sales top 2,000 per year it will be considered a success and with an all-new VW Passat and Ford Mondeo around the corner, the new 508 is likely to struggle more than ever before.