Genesis G70 Shooting Brake vs Peugeot 508 SW: 2022 twin test review
Looking for something different from a family estate? Genesis and Peugeot offer style and space from their executive load-luggers
It's rare for a new brand to break into the premium car scene, but that's exactly what Genesis did when it arrived in the UK last year. While its range is mostly made up of saloons and SUVs, because these cars are likely to have the broadest appeal, there's now an interesting alternative: the G70 Shooting Brake.
The term 'shooting brake' originally described an estate car with three doors, but these days manufacturers use it to refer to a five-door estate with a greater focus on styling than outright practicality. That's the case with the distinctive-looking G70, which shares its front end with the saloon version, but has a hatchback rear.
While Genesis' parent company Hyundai has an excellent electric-car range, the G70 only comes with petrol or diesel power. But alternative fuels are cropping up in every sector, so here we've lined up another style-led estate: the Peugeot 508 SW Hybrid.
Genesis G70 Shooting Brake
| | |
| --- | --- |
| Model: | Genesis G70 Shooting Brake 2.2D Sport Line |
| Price:  | £41,430 |
| Engine:  | 2.2-litre 4cyl turbodiesel, 197bhp  |
| 0-62mph:  | 7.7 seconds |
| Test economy:  | 51.2mpg/11.3mpl  |
| CO2:  | 175g/km   |
| Annual road tax:  | £490 |
The Genesis G70 Shooting Brake is a five-door estate that's offered alongside a saloon model in the new brand's range. While petrol power is available, here we're testing the 2.2-litre diesel in Sport Line trim, which is priced at £41,430.
Design & engineering
With its distinctive quad-headlights  and sleek roofline, the G70 Shooting Brake certainly stands out among its rivals. Whether it looks better than the striking 508 SW is up to you – although both models are more eye-catching than an equivalent BMW 3 Series Touring.
The G70 we're testing here has a 2.2-litre diesel engine with 197bhp and 440Nm of torque, sent to the rear wheels via an eight-speed automatic gearbox. Although Genesis is a new brand in the UK, the G70 is actually related to the Kia Stinger. There's no 3.3-litre V6 model, but the chassis is similar – it uses MacPherson struts at the front and a multi-link rear end, which contributes to its enjoyable handling.
The G70 is similar to the Stinger to drive, and it looks familiar inside, too. Some of the switchgear is recognisable from the wider Kia and Hyundai ranges, and the infotainment and driving position are similar to the Stinger's. That's a very good thing, because it's fantastic: much more comfortable than the Peugeot 508's awkward set-up.
Materials in the cabin are roughly on par with the Peugeot's – there are some areas that look a bit cheap, but on the whole it's a pleasant place to be. The seats are comfortable and build quality is good, plus there's lots of tech, including a large sat-nav screen on the dash and a digital display with 3D-effect dials.
Other equipment on the Sport Line model includes lane-keep assist, blind-spot warning and AEB, plus climate and cruise control, keyless go, a powered tailgate and heated leather seats.
Driving
The Genesis isn't as sharp to drive as the best cars in its class, but there's plenty here to enjoy if you're a keen driver. It's certainly much more composed and fun on a twisty road than the 508 SW Hybrid, because it has more grip, superior body control, a sportier driving position and better-weighted steering. The Sport Line model also comes with a limited-slip differential and Electronic Control Suspension, so it's even more driver-focused than other models in the range.
Partnership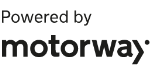 Need to sell your car?
Find your best offer from over 5,000+ dealers. It's that easy.
The chunky steering wheel and weighty feel of the rack reminds us of a BMW, and the agile handling is a real high point of the entire car. It's a shame that the suspension isn't quite able to deal with bumps and potholes as well as we'd like, though.
The G70 is fine on the motorway as long as it's not particularly bumpy, but on country roads and around town the Genesis never fully settles. It deals with speed bumps nicely and there's no huge thud as you roll over them, but you're constantly being shifted around by small bumps and vibrations.
The 2.2-litre diesel engine is a bit noisy and is far less relaxing to use than the hybrid set-up in the Peugeot, but it's a really punchy engine that delivers good performance. It has 440Nm of torque from just 1,750rpm, so it has all the performance you need and you don't need to rev it to make good progress.
The eight-speed automatic is smooth and shifts nicely in auto mode, but could be more responsive when you try to switch gears manually. It's less jerky than the Peugeot's box, though, and is a good fit for the torquey diesel engine.
Practicality
Regardless of the Shooting Brake name and the sportiness that it implies, buyers will fundamentally see the G70 as an estate and make assumptions about practicality as a result. Unfortunately, space inside is very much at a premium and the rear seats are very tight. There's hardly any legroom behind the driver unless they have the seat shoved forward, and there's a huge bump in the floor, so it's not a comfortable place for three. Factor in the limited headroom, and it's very cramped in the back seats overall.
In some cars you might expect this is a result of maximising boot space, but that isn't the case in the G70. At 403 litres, there's barely any more room here than in most family hatchbacks. It expands to 1,535 litres with the seats down, but the small opening and high boot floor mean it's not a very useful space. The 508 SW has more room at 530 litres, and that's despite the fact that this hybrid model has had to find space for the bulky drive battery.
Ownership
The G70 comes with a five-year care package that includes a warranty, breakdown cover, servicing and infotainment updates. Free servicing for five years isn't to be sniffed at, nor is the long warranty, although we would expect Genesis models to be reliable.
Standard safety kit includes AEB, blind-spot assist, lane-keep assist, adaptive cruise control with autonomous features and speed-limit assist tech. The car also recently scored five out of five in its Euro NCAP crash test, so it's spot-on for safety.
Running costs
On test, the G70 returned 51.2mpg overall, which is quite a bit better than its official claimed figure of 41.8mpg. It's not really comparable to the 508 SW's 35.2mpg, which we achieved without charging the batteries, but it does show that for long-distance driving, the diesel Genesis is probably better. However it's worth noting that a warning about the car's AdBlue system popped up on our test drive, which may have affected the fuel economy – so take both figures with a pinch of salt.
The G70's free servicing is great for running costs, but if you're a company car driver then the tax bills will probably push you towards the hybrid Peugeot, which is in a much lower Benefit-in-Kind band.
Testers' notes: "The G70 has less power than its rival, but is faster from 0-62mph. The torquey diesel, rear-drive layout and Michelin Pilot Sport 4 tyres all play their part."
Peugeot 508 SW
| | |
| --- | --- |
| Model: | Peugeot 508 SW Hybrid 225 GT Premium |
| Price:  | £42,795 |
| Engine:  | 1.6-litre 4cyl turbo PHEV, 222bhp  |
| 0-62mph:  | 8.3 seconds |
| Test economy:  | 35.2mpg/7.7mpl  |
| CO2:  | 29g/km |
| Annual road tax:  | £480 |
The Peugeot 508 SW Hybrid is an example of an estate car aimed at company car drivers in 2022. Rather than choosing diesel power, current tax rules mean it's more cost-effective to choose plug-in hybrids such as this as a family-friendly company car. Can it match the diesel Genesis in that role?
Design & engineering
While the 508 SW doesn't come from a brand with a premium reputation, it more than compensates with a bold, classy design. There are hints of other models in the Peugeot line-up such as the 3008 and 5008 SUVs, and it's similar underneath, too – all three share the same platform.
The 508 features MacPherson struts up front and multi-link rear suspension, the same as its rival here, and it's fitted with adaptive dampers and an eight-speed automatic gearbox like the G70. But that's where the similarities stop in terms of engineering, because the Peugeot is laid out very differently.
The hybrid powertrain means there's a petrol engine – a 1.6-litre turbocharged unit – and an electric motor, and they power the front wheels with a combined output of 222bhp and 360Nm of torque. You can drive for up to 33 miles on electric power alone as long as you charge up using the plug (there's a 3.7kW on-board charger as standard or a 7.4kW one for £300). The hybrid system means the 508 SW drives very differently to the G70, and it also cuts company car tax costs significantly.
Some parts of the 508's cabin feel a bit cheap, but that's offset by some other materials, such as the inserts on the doors and dashboard that feel very upmarket. The design of the cabin is much more interesting than the G70's, but there are some shortcomings, most notably the driving position. It's awkward because of the tiny steering wheel, but while it's not uncomfortable, you never feel fully settled in.
Driving
That small steering wheel plays a big part in how the 508 feels to drive. To compensate for its size, there's a lot of power assistance, so it still seems light. Combined with a responsive rack, it makes the 508 feel sporty, but the suspension can't always keep up with direction changes. As a result, you need to be smooth with your inputs. Because the wheel is small, there's less margin for error in placing the car on the road, so it's not as easy as in the G70 – but the 508 isn't a big car, so it's not really an issue for most of the time.
The 508 deals with the majority of road surfaces pretty well, and it's more comfortable than the Genesis over roads with lots of smaller bumps. It's a great cruiser as a result – it's not as agile or as fun to drive on country roads as the G70, but it's more settled and sensible overall. However, the engine is better suited to short trips around town than long journeys.
While the Peugeot's 1.6-litre four-cylinder engine is quieter than the 2.2-litre diesel in its rival here, fuel economy on longer trips without a charge in the battery isn't great. That's not what it was designed for, so we don't mark it down for that – it's just aimed at different buyers.
It's fast, though, with an instant punch of torque from the electric motor from low speed. It feels initially quicker than the Genesis, but at higher speeds the smaller engine isn't able to keep up with its rival.
The eight-speed automatic gearbox is a little jerky and the transition from electric to petrol power isn't the smoothest, but it does the job and keeps things relaxed when driving around town.
Practicality
There's not only more legroom and headroom in the back of the 508 SW than in the G70 Shooting Brake, it has a bigger boot as well. There's more space for three passengers in the rear seats of the Peugeot, plus taller occupants will be fine behind the driver.
The 508 SW has 530 litres of boot space and that's the same whether you go for the hybrid version or not, which is great to see, because many electrified models have less space to fit the batteries. The boot opens out to a total of 1,780 litres when the rear seats are folded down, which is much bigger than in the Genesis. Not only that, but the cargo area is a more useful shape and it's easier to load items in and out.
Ownership
As with its rival here, the 508 SW has a five-star Euro NCAP safety rating, and this version comes with everything you need in terms of equipment, including parking sensors, a reversing camera, lane-keep assist, AEB and blind-spot assist.
Where it falls behind its rival is in the other areas of ownership. There's only a three-year warranty, two years less than the package offered with the Genesis, and you'll have to pay for servicing: three years' worth is £21 a month, which is nearly £800.
Running costs
Other running costs for the 508 SW Hybrid are impressive, though. Because it sits in the 11 per cent band for Benefit-in-Kind tax, annual deductions for lower-rate taxpayers only come to £940. The Genesis, which sits in the 37 per cent band, is just under £3,000. This is a huge difference and will be pretty much the sole deal-breaker if you're a company car user.
For private buyers, the 508 will be cheaper to run if you mainly do short trips. The electric motor can easily manage sub-30-mile journeys, and stays in this mode all the way up to the motorway speed limit. With only minimal petrol use, it's definitely possible to reach the official WLTP figures of over 160mpg as a result. For long trips where you don't use the electric power, though, the fuel economy takes a big dip: we achieved 35.2mpg on our test.
Testers' notes: "The 508 is more powerful than the G70. It feels punchy from a standstill, but the extra torque in the Genesis means it feels faster in the real world."
Verdict
First place: Peugeot 508 SW
The 508 SW is our pick here, with practicality and running costs the key qualities in its favour. The hybrid powertrain is excellent as long as your lifestyle supports it, because it can bring ultra-low costs, but the Peugeot is also cheaper to buy on finance and crucially it's far more spacious. To cap it all off, there's plenty of kit offered as standard and it's a bit more comfortable than the G70, too.
Second place: Genesis G70 Shooting Brake
The G70 is well worth considering if you're a keen driver, while the smart cabin and excellent infotainment are also big plus points. However, it's very impractical for an estate, and this prevents it from winning this test. It's also quite expensive to buy, and despite an efficient diesel engine for motorway driving, it's more expensive to tax than its PHEV rival as a company car.
Other options in this category...
BMW 330e Touring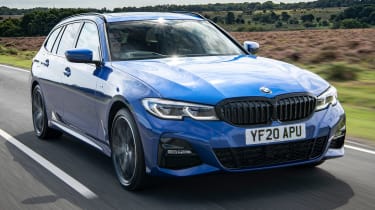 Model: BMW 330e Touring Sport
Price: £42,230
Engine: 4cyl & e-motor, 249bhp
The 3 Series Touring is a fantastic choice at this budget. It has the best qualities of both cars above: it's great to drive, comfortable, practical and thanks to the plug-in powertrain in the 330e model, it's cheap to run and company car tax is low.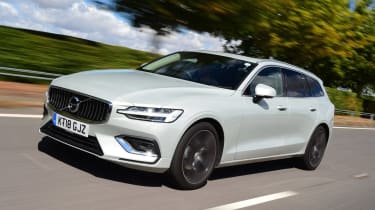 Model: Volvo V60 B4 R-Design
Price: £39,385
Engine: 2.0-litre 4cyl, 197bhp
Volvo no longer offers a diesel V60, but this petrol model uses mild-hybrid tech to improve efficiency. It's a great option for those who do short trips and can't charge a PHEV at home, especially because it's practical, comfortable and good value for money.
Figures
| | | |
| --- | --- | --- |
|   | Peugeot 508 SW Hybrid 225 GT Premium | Genesis G70 Shooting Brake 2.2D Sport Line |
| On the road price/total as tested | £42,795/£42,795 | £41,430/£45,430 |
| Residual value (after 3yrs/36,000) | £17,525/40.95% | £20,127/48.58% |
| Depreciation | £25,270 | £21,303 |
| Annual tax liability std/higher rate | £940/£1,881 | £2,996/£5,991 |
| Annual fuel cost (12k/20k miles) | £2,353/£3,921 | £1,664/£2,774 |
| Insurance group/quote/VED | 33/£535/£480 | 38/£669/£490 |
| Cost of 1st/2nd/3rd service | £21pm (3yrs) | Included (5yrs) |
|   |   |   |
| Length/wheelbase | 4,778/2,793mm | 4,685/2,835mm |
| Height/width | 1,420/1,859mm | 1,400/1,850mm |
| Engine | 4cyl in-line + e-motor/1,598cc | 4cyl in-line/2,199cc |
| Peak power/revs | 222/6,000 bhp/rpm* | 197/3,800 bhp/rpm |
| Peak torque/revs | 360/1,650 Nm/rpm* | 440/1,750 Nm/rpm |
| Transmission | 8-speed auto/fwd | 8-speed auto/rwd |
| Fuel tank capacity/spare wheel | 43 litres/repair kit | 60 litres/repair kit |
| Boot capacity | 530/1,780 litres | 403/1,535 litres |
| Kerbweight/payload/towing weight | 1,720/550/1,330kg | 1,810/465kg/N/A |
| Turning circle | 10.8 metres | 11 metres |
| Basic warranty (miles)/recovery | 3yrs (60k)/8yrs | 5yrs (50k)/5yrs |
| Driver Power manufacturer/dealer pos. | 11th/N/A | N/A |
| NCAP: Adult/child/ped./assist/stars | 96/86/71/79/5 ('18) | 89/87/76/88/5 ('21) |
|   |   |   |
| 0-62mph/top speed | 8.3 secs/155mph | 7.7 secs/140mph |
| Auto Express econ. (mpg/mpl)/range | 35.2/7.7/333 miles | 51.2/11.3/676 miles |
| WLTP combined | 166.2-235.4mpg | 40.7-41.8mpg |
| WLTP combined | 36.6-51.8mpl | 9.0-9.2mpl |
| Actual/claimed CO2/tax bracket | 185/29g/km/11% | 148/175g/km/37% |
|   |   |   |
| Airbags/Isofix/park sensors/camera | Six/yes/yes/yes | 12/yes/yes/yes |
| Auto box/lane keep/blindspot/AEB | Yes/yes/yes/yes | Yes/yes/£3,250**/yes |
| Climate control/adaptive cruise | Yes/yes | Yes/yes |
| Leather/heated seats | Leatherette/yes | Yes/yes |
| Metallic paint/LED lights | £600/yes | £750/yes |
| Keyless entry & go/powered tailgate | Yes/yes | Yes/yes |
| Satellite navigation/digital dashboard | Yes/yes | Yes/£3,250** |
| DAB/connected services | Yes/yes | Yes/yes |
| Wireless charge/CarPlay/Android Auto | No/yes/yes | £3,250**/yes/yes |