Polestar doubles UK research and development team at MIRA facility
Polestar cements its UK development operations with a 250-strong team at its MIRA testing facility, where engineers will help bring the Precept concept to production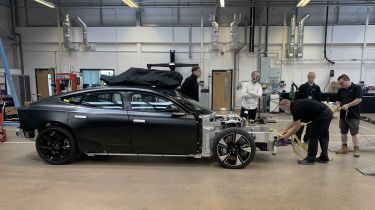 Polestar has strengthened its engineering operations in the UK by expanding its British research and development team, with new facilities at its MIRA testing base in Warwickshire. 
During the past year, the Swedish brand has expanded its R&D team in the UK to 250 members - a two-fold increase - and promises further growth in the coming years. The team will play a crucial role in the development of the upcoming Polestar Precept, which is due to go into production before 2025.
The news signifies Polestar's commitment to the UK market, as the brand looks to garner British talent to develop its future models. As such, its MIRA test and development facility is located within Motorsport Valley in the Midlands, an area known for its engineering capability. Polestar is looking to tap into this pool of expert technicians and automotive engineers. 
Polestar is aiming to expand to a 500-strong R&D team in the future, which will have access to numerous key facilities at MIRA. These include advanced battery testing centres and specially designed test tracks, to hone the dynamics of upcoming Polestars. 
As a brand that majors on delivering a sporting EV driving experience, the investment in British R&D could bode well for the ride and handling of future Polestar models for UK customers, with cars optimised for British roads. 
Speaking on the announcement, Polestar CEO Thomas Ingenlath said: "The combination of British engineering talent and Swedish expertise will ensure our cars are among the highest performing and most sustainable on the road."
The growing team will start work on the forthcoming Polestar Precept, a radical four-door coupe previewed by a concept car in February last year. 
"Precept is a statement of intent for the brand in terms of design, technology and sustainability", said Pete Alle, who leads the project as head of Polestar UK R&D. "The production car will take an important step on the journey towards climate neutrality, and ours will be the team that delivers that."
The UK R&D expansion is part of Polestar's wider ambition to cement itself as a global EV manufacturer. The maker recently announced that its upcoming SUV, the Polestar 3, will be built in the US, with the brand plotting to expand its reach to 30 global markets by the end of 2022.
Click here for our list of the best electric cars currently on sale in the UK...