Porsche Boxster and Cayman GTS revealed in Beijing
Porsche unleashes ultimate Boxster and Cayman GTS models, featuring 15bhp power increase
Porsche's hardcore GTS line-up – which currently consists of the Cayenne and the Panamera – is about to double in size, with the addition of new Porsche Boxster GTS and Cayman GTS models. The Boxster GTS is pictured making its public debut at the Beijing Motor Show 2014.
Speaking in Beijing, Porsche president and CEO Matthias Muller said of the new GTS models: "They will be the pinnacle of the line – the most powerful cars to wear their badges – and will set new dynamic standards for their class. This badge is used only for the most special Porsches and they wlll live up to that tradition."
The high-spec new versions of the roadster and coupe will become the most powerful cars in their respective ranges. They will share the 3.4-litre flat-six boxer engine, which has been tuned to develop a further 15bhp and 10Nm of torque over those used in the Boxster S and Cayman S. That means the Boxster GTS will deliver 325bhp and 370Nm of torque, and the Cayman GTS 335bhp and 380Nm of torque.
Distinctive visual tweaks will set the newcomers apart, including darkened front bumper inserts, 20-inch alloy wheels and bi-xenon headlights. The lettering on the back of both models has also been changed to gloss black, while inside, both cars get leather sports seats and Alcantara details as standard.
The GTS models also feature Porsche's Sport Chrono Package and Active Suspension Management (PASM). The systems allow drivers to modify the damper stiffness and alter the throttle response of the engine for a more focused drive. Dynamic engine mounts offered as part of the Sport Chrono Package automatically stiffen under hard acceleration, braking or cornering to keep the body flat.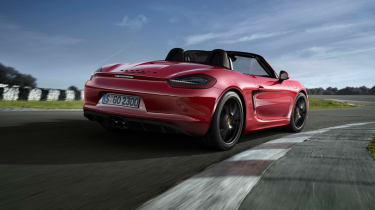 With the optional seven-speed dual-clutch PDK gearbox, both cars' 0-62mph sprint times are cut by three-tenths of a second over the standard S models', to 4.7 seconds. Top speed also increases marginally, with the Boxster GTS hitting 174mph and the Cayman GTS promising to top out at 177mph.
Porsche is claiming fuel economy of 34.4mpg with the PDK gearbox and 31.4mpg with the six-speed manual.
Prices for the Boxster GTS start at £52,879, with the Cayman GTS starting at £55,397.