Porsche Cayman e-volution unveiled as prelude to Mission E
Electric Cayman e-volution revealed in Stuttgart alongside Porsche's new 'Turbo' fast-charging system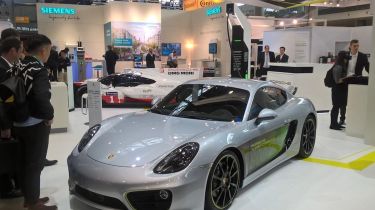 Porsche has unveiled the one-off Cayman e-volution, an electric sports car giving a taste of what to expect on the Mission E in 2019.
The fully electric Cayman e-volution was unveiled at the Electric Vehicle Symposium in Porsche's hometown of Stuttgart. Porsche claims that it can accelerate from 0-60mph in 3.3 seconds, over a second quicker than the petrol-powered Cayman S, and offers a range of 125 miles.
Alongside the Cayman EV is Porsche's new fast-charging facility, dubbed Porsche Turbo Charging. It's an accumulator-based fast charging system with 320kW of charging capability according to the German marque. It can also charge two vehicles at one time providing 160kW of charge to each EV simultaneously.
The fast-charging network is expected to be up and running on major European traffic routes by 2020, and has been built as a joint venture between Porsche, Audi, BMW, Daimler and Ford.
The Cayman e-volution's unveiling at the Electric Vehicle Symposium acts as a prologue for the Mission E concept that is being discreetly tested ahead of its 2019 release. The fully electric Mission E is expected to have a range of 500 miles, with batteries that can be charged from flat to 80 per cent within 15 minutes.
Has the Porsche Cayman e-volution got you excited about the Mission E? Tell us below!